Staying Active in Academic Research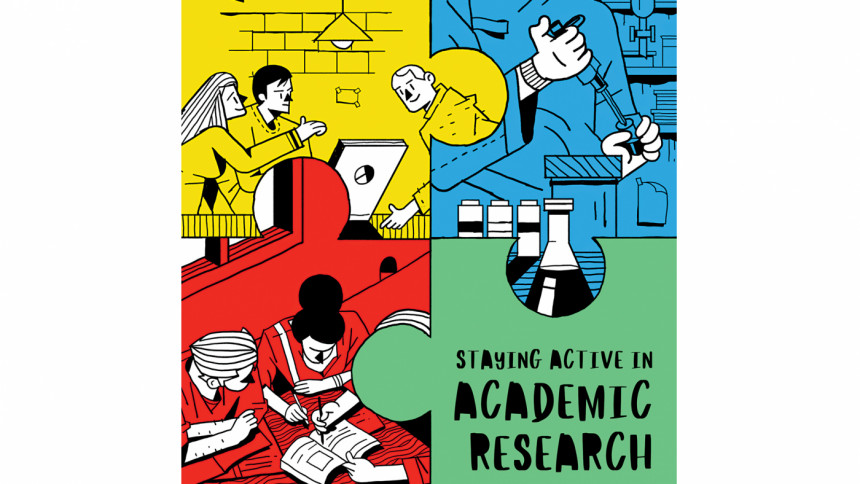 Anyone can write a research paper as long as they have a good understanding of how research publications work. However, it is not just the writing and publication of a paper that will establish your presence in the academic research scene.
To cement your position as a regular researcher or a research enthusiast, you need to stay active within that community. Hence, it is vital that you keep in touch with other researchers, especially those working in your field.
For this article, we will take a look at how you can stay active in the field of academic research and connect with other like-minded researchers. We will also look at the importance of staying away from predatory publications that are only there to exploit you.
Connecting with Others and Making Your Work More Accessible
Staying updated with the latest research is pivotal for both young and experienced researchers. This is where ResearchGate comes into play.
ResearchGate was created with the intent to amass science enthusiasts from all over the world and let them share their discoveries. It is a social networking platform for researchers and scientists that enables them to share their conference papers, posters, research articles, preprints, and any other projects.
Additionally, you can find and follow other researchers given they already have an account. Creating an account is easy, free, and requires an institutional email in most cases.
What's more interesting about ResearchGate are the personalised stats, scores, and other analytics it offers to users every week. Users are notified when they have been cited in a paper and get to view their total citations and h-indices. Other users have the option to follow certain research projects as well as recommend them.
You can also interact with each other via a Q&A blog. Here, you can start a discussion, ask questions on troubleshooting, find potential collaborators and so forth.
"The platform allows students to follow works of professors and scientists and can also help them grow an interest towards a particular field," says Md Asad Ullah, a Biotechnology and Genetic Engineering graduate student at Jahangirnagar University, and Chief Research Officer, Community of Biotechnology. "I have published around 20 articles, and ResearchGate has been integral in this journey."
The platform itself is not enough, however. Researchers also need to be good communicators.
Good communication practice starts with the paper itself. While using scientific language in your paper is considered as standard, you should at least use simple language while preparing the research summary. That way, others can easily get the gist of your work.
Selecting keywords for your paper is also important to make sure that your paper is visible in the search results. Choose keywords from the reader's perspective; use words and phrases that readers will use to search for papers. Avoid single word keywords as they might lead to false matches.
Predatory Publications and Why They are Bad
Predatory publishing is a form of exploitation. It is an academic publishing business model where authors are able to publish their papers for a certain fee without having their articles checked for quality and legitimacy. In most cases, predatory publications will publish your work with minimum or zero peer-review or editing services.
High quality journals or conferences take longer to publish your papers because they have to go through a long and extensive peer review and editing process in these publications. This is done to ensure quality research and make sure that authors are being credited for their work, and not just because they paid a hefty fee.
Despite the clear red flags, many researchers and research enthusiasts, mostly students, keep sending papers to these publishers. As far as they are concerned, their work is being recognised and published in "international" journals and conferences, whereas the reality could not be more different.
A 2017 research suggests that Bangladesh is one of the top 20 countries in the world with the highest contribution (211) in predatory journals. India tops that list with the highest contribution (16,720). And these predatory publishers are not just publishing papers on their own make-believe journals and conferences, but are also getting them indexed on different renowned scholarly databases according to a 2021 report by Nature.
With the pressure of "publish or perish" in academia, students and researchers often fall in the clutches of predatory journals and conferences.
"All kinds of research should be avoided from being published in such journals," says Fahim Kabir Monjurul Haque, PhD, Assistant Professor at the Department of Mathematics and Natural Sciences, Brac University. "The promise of quick acceptance can also motivate students to submit their work. These publications lack a proper peer-review process which is evident in legitimate journals like Nature, Scientific Reports, PLOS One, etc."
Predatory journals are hard to detect. However, there are some tell-tale signs which give away their true identity.
Professor Haque suggests checking out the members of the journal's editorial board along with their contacts and seeing if these journals are using their own email domain. He also advises to check if the target journal is indexed in reputed indexing agencies such as Scopus, Index Copernicus etc. There are also lists available online that regularly update which journals to look out for such as the Beall's List (which has been discontinued in 2017 but has successors continuing its work).
Predatory publications are somewhat fuelled by the scientific community itself. For job-holding researchers, having a certain number of published articles is necessary for career growth. As for students, having their works published in journals puts them at an advantaged position when seeking higher education.
However, such publications rarely do any good. The main motive of the organizers who host predatory conferences and publish illegitimate journals, at the end of the day, is the financial profit which comes from submission fees paid by authors.
Predatory publications, especially conferences, have been on the rise during the pandemic. Rafeed Rahman, lecturer at the Department of Computer Science and Engineering, Brac University, says that the new interest is due to the conferences being held virtually. That means there is no expense made for visa and travel apart from the participation fee.
"Conference publications are faster compared to journal publications and the submissions can later be extended and readied for a journal," adds Rafeed.
However, an all-virtual event also means students are more vulnerable to fall prey to predatory conferences and thus he asks students to always go for Core-Ranked conferences which can be accessed through the website www.core.edu.au/conference-portal. It is a good guide to choosing conferences for students from computing disciplines.
There are other ranking lists for other majors as well, but since these databases are usually scattered across the internet, it is always a wise decision to seek help from your research supervisor regarding this matter.
Getting a paper published is important, but one should also focus on staying clear of predatory journals and conferences. No matter how much effort you put into it or how ground-breaking it might be, the moment it is presented in a predatory journal or conference, its credibility plummets.
Reference 
Publishing Research Quarterly (2017).
Publishing in Predatory Open Access Journals: A Case of Iran.