Lockdown will ruin company culture, Mamun from HR warns govt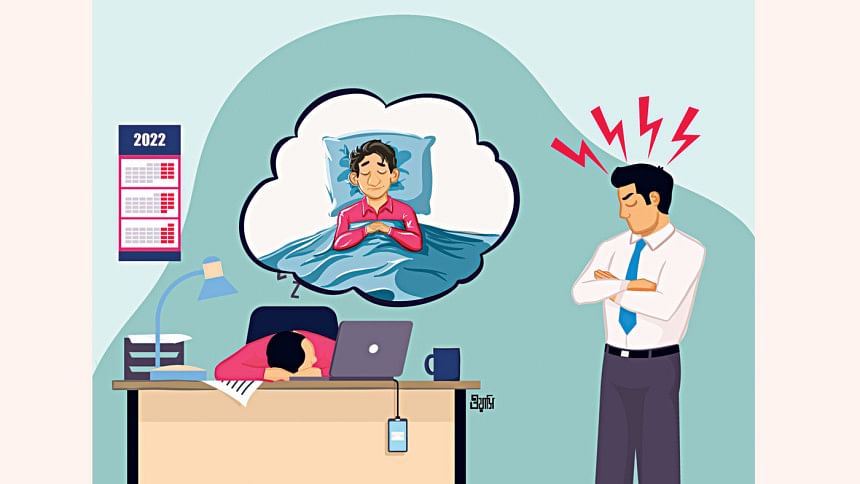 "There's no way I'm going to let these people go back home again," Mamun from HR murmured. "What will happen to the company's synergy, dynamism and disruption, if there is no one to synergise, dynamise and disrupt at the office? 
"It's finally time for me to align with my goals, think out of the box, circle back to the plan, make an impact and shift the paradigm," he said while giving himself a pep talk.
Ever since the Omicron variant of Covid-22 arrived in Dhoka city, HR executives like Mamun have been shaking in their boots -- no, not in fear of getting infected, but of empty offices and turned-off computers, of work from home (WFH).
Exactly a year ago, when the Delta variant was wreaking havoc, when the lockdown was imposed, Mamun saw the horror. Ideation was at an all-time low, and so was he.
Unfortunately for HR, history is set to repeat itself. If another lockdown is imposed, scalability will surely sink, Mamun warned the government.
Employees were seen trying to console Mamun, but for some reason, they didn't have that look of pain on their faces.
"Oh no, another lockdown, whatever shall I do?" said Hirok Paul, one of the employees. "I guess it's time for me to pack my stuff and get ready for WFH."
"Man, I'm going to miss waking up at 7:00am, wearing a three-piece suit with a tie that chokes me all day, making small-talk with other random employees, and nodding in hour-long meetings. I was living the life," he said.
"Now I'll be home, wearing pyjamas all day, spending time with my family and ordering food. It's so depressing," he added.
Unlike Hirok, a group of employees were quite cheery about the oncoming lockdown.
"We are introverts, a special breed of individuals who introspect and ponder about the important aspects of life," said the self-aggrandising bunch. "Since we utilise so much of our energy to contemplate the world, this lockdown will bring us great bounty.
"You see, unlike the common extroverts, who have infinitely smaller brains than ours, we need time to recharge our minds, after dwelling on economics, psychology, philosophy and the like. Talking with commoners drains us," said the group, who are known for not talking much, but not today it seems.
After hearing the annoying introverts, Mamun started to plead with them.
"O introverts, please don't abandon me! I know these are trying times, now more than ever. Let's start a brainstorming session and find an alternative to WFH, what do you say? We are all in this together, like a family. We must pivot from the new normal, I beg you!"