First-world travel vlogger discovers Dhaka after barely interacting with locals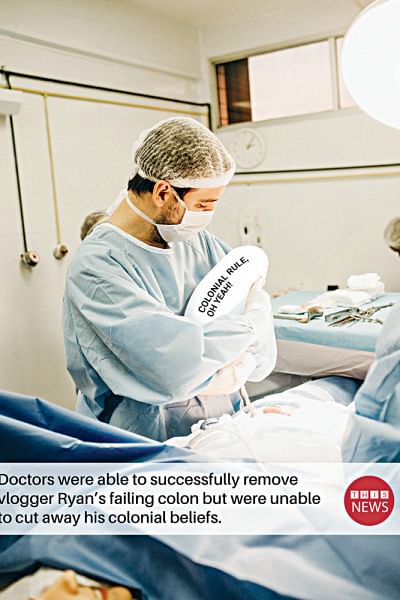 "Hi, everyone! Did you miss me? Of course, you did. It's your favourite wanderlust-stricken traveller, coming to you from Da…Dacca, Bangladesh," Ryan said, lying in his hospital bed, holding up the selfie-stick.
After reaching Dhaka during the pandemic, Ryan got stricken with something other than wanderlust: Covid-22.
In an interview with The Daily Star at the hospital, Ryan shared Dhaka's characteristics in detail, after roaming specific parts of the city for just five days, while the virus explored his body.
When asked why he travelled at a time like this, he replied, "I love challenges. My thirst for exploring this planet far surpasses my fear for a tiny virus. I mean, refugees go through so much to get to my country; I want to embody that energy.
"Besides, I almost forgot there was a pandemic going on with all the people surrounding me every time I went out," he said.
While Ryan was getting his daily blood plasma treatment, he started talking about the locals. "The spirit Dacca residents possess is beyond amazing. While the whole world is cooped up at home, Dacca is alive and bustling. The energy here is infectious," he remarked.
"They're so welcoming, so friendly. Whenever I start vlogging, they all stare at me, giving me all their attention," he continued. "They stand behind me, looking at the camera, and even try to start conversations!"
"Could colonialism be a reason you get that kind of attention?" this correspondent asked.
"Co-colon what? My colon is just fine, thank you. Just having some bowel trouble."
Ryan became embarrassed, not because he was unaware of the selective treatment he was getting from an otherwise bigoted nation, but because along with Covid-22, he had diarrhoea. It started after he went to Old Dhaka to try 100 percent authentic traditional Bengali food.
"I've to say, it was worth it. That biryani was to die for; I mean, I don't want to die right now, but you know," he said. "The rustic flavour of the rice and that traditionally spiced chicken reflected the people's souls. That Nanna guy sure knows his stuff."
"Nanna died a long time ago."
"No."
While Ryan was mourning, this correspondent ran a thorough investigation and found that Ryan had actually gone to "New Nanna Biryani House and Chinese Kabab Restaurant", so this was definitely not worth his diarrhoea.