9-yr-old annoyed at parents comparing him to Einstein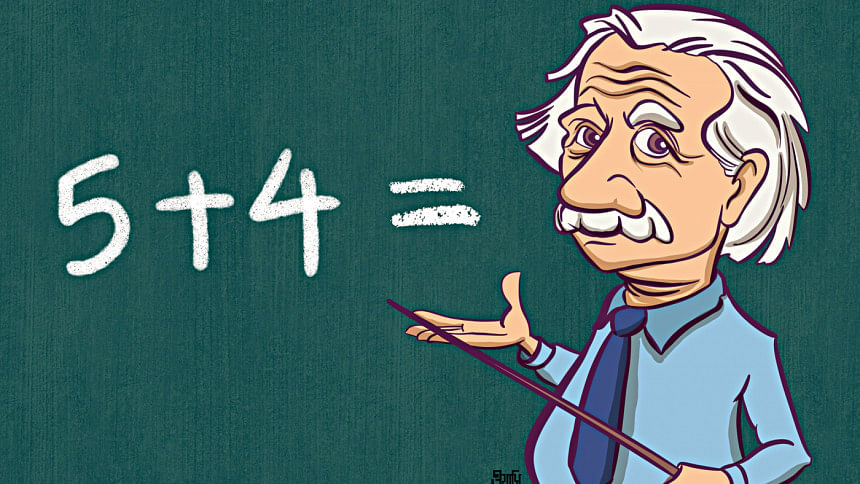 The phenomenon of a boy of barely 10 solving mathematics problems has taken social media by storm.  
"Have you ever seen something like a kid below 10 solving difficult mathematical equations while other kids of his age are busy playing video games and making TikTok videos?" Gorbito Jhari, the proud father of that child, asked.
"Doesn't this prove that my boy is more of a genius than Einstein and Newton combined? Will you still call it an 'exaggeration' if I introduce him to unfortunate (because they don't have someone like my boy) parts of the world through my social media accounts?" Gorbito Jhari continued.
After watching videos of father trying heart and soul to establish his boy as a genius of the ilk of Einstein and Newton, people started to doubt this genius of geniuses.
"If solving a basic algebra problem sends someone to the level of Einstein, why are people still calling me Wafee instead of Einstein?" Wafee, a student of class X of Na Porle Khobor Ache School, who has been obtaining 100 percent marks in maths since class I, asked his parents.
This correspondent decided to contact the father of "Einton" for his response to people's mockery. But surprisingly, the father contacted this correspondent before the latter could even open the relevant chat window.
"Brother, consider yourself lucky that the father of the modern-day Einstein called you. Whatever, I want you to cover our story. Remember, 90 percent of the story will be about me. Just imagine, if there was no me, how would my son come into this world? So, I am more important to this world than my son."
Meanwhile, the son, who we shall not name to protect his identity, did not know his father, and his reticent mother, were uploading videos of him on social media and comparing him with the likes of Albert Einstein, Isaac Newton and Stephen Hawking.
The child was not happy about this as he always wanted to be his own person, instead of following someone else's footprints.
"Why are you always comparing me with the greats?" he asked his father.
"Because you are a greater genius than those greats. Oh my gosh, I forgot to record this conversation. My son is so down to earth … social media need to see this", the father exclaimed.
"Stop comparing me with others. Let me just be a better version of me."
"Aww, I thought my son only surpassed Einstein, but you actually surpassed the great Persian poet Sheikh Saadi too. So down to earth!" the father said as he rolled on the ground with joy.