Rohingya Camps: It's all sinister after sundown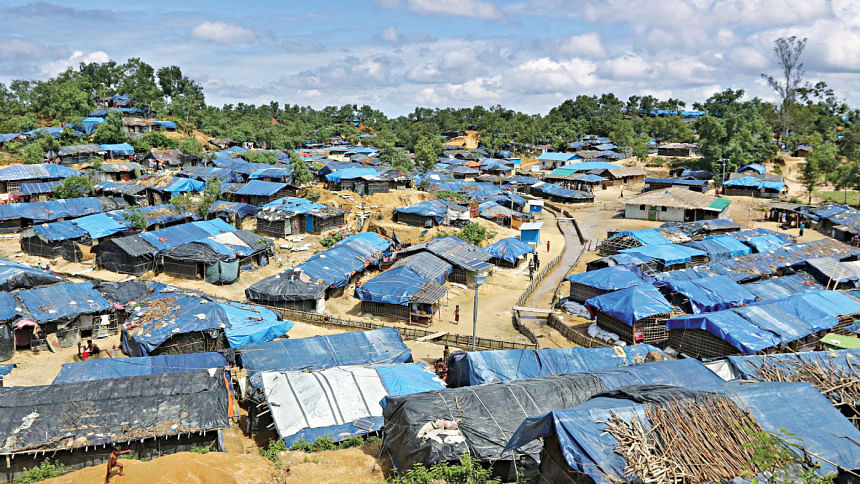 To Aziz Khan, night time is still the scariest.
It was during a night in 2017 when Aziz, in his late 40s, from Maungdaw of Myanmar saw his home burn down to ashes by military personnel.
He ran for his life, journeyed through the hills and crossed the Naf river before landing in the Kutupalong camp.
Once he reached the camp, he found it to be safer though life was still full of struggles.
However, with a rise in criminal activities, nights at the overcrowded camps too have turned terrifying.
"We spend every night constantly in fear of attack as anything can happen at any time. The safe shelter [Rohingya camps] is gradually becoming unsafe for us. We left Myanmar for the sake of our lives, but we are still living in fear," he told The Daily Star recently.
"We [Rohingya refugees] are our own enemies. The environment of the camp is frightening because of some criminals."
Aziz's fear is shared by many of those living in the camps, as almost all criminal activities take place there after the sun goes down.
Law enforcers say criminals take the advantage of the dark hours to carry out their activities -- starting from drug and arms trade, human trafficking and abduction to extortion and fight over turf.
The assassination of Rohingya leader Mohib Ullah on October 1 exposed the fragility of the situation and forced law enforcement officials to step up their patrols across the camps, especially at night.
They have been conducting block raids every night since then.
Mohib Ullah, 48, chairman of the Arakan Rohingya Society for Peace and Human Rights, was shot dead at his office in the Kutupalong camp at around 8:30pm on October 1.
Meanwhile, the grisly murder of six Rohingya refugees at Darul Ulum Nadwatul Ulama Al-Islamia Madrasa in Cox's Bazar's Ukhia Rohingya camp on Friday further exposed security vulnerabilities and the tension simmering between active criminal groups across the 34 refugee camps in Ukhia and Teknaf.
The killing took place right after a raid.
A case was filed around 11:30 on Saturday in this regard and 10 people have so far been arrested in several drives by the Armed Police Battalion (APBn) and Ukhia police.
Nurul Islam, father of murdered Azizul Haque, filed the case against 25 named and around 250 unnamed people with Ukhia Police Station.
The arrestees are Dildar Mabud alias Parvez, 32, Mohammad Aiyub, 37, Ferdous Amin, 40, Abdul Mojid, 24, Mohammad Amin, 35, Mohammad Younus alias Foyez, 25, Zafar Alam, 45, Mohammad Jahid, 40, Mohammad Amin, 48, and Mujibur Rahman, 20, Ahmed Sanjur Morshed, officer-in-charge of Ukhia Police Station, told The Daily Star.
"We have increased our patrolling at night. However, killings still seem to be taking place," Md Tarikul Islam Tarik, commander of APBn-16, told The Daily Star.
The situation is comparatively better in Teknaf area than in Ukhia, he added.
On Friday, Foreign Minister AK Abdul Momen said law enforcers will open fire if necessary to stop arms and drugs trade in the camps.
According to officials of different law enforcement agencies, at least 10 Rohingya groups are involved in at least 12 types of crimes, including killing, abduction, rape, drug trafficking and robbery.
Since August 2017, at least 226 Rohingyas were killed and some 1,298 cases were filed accusing 2,850 individuals, mostly in connection with possession of drugs and firearms.
Three battalions of the APBn have been trying to maintain law and order in the refugee camps, where over a million Rohingyas have been living since the mass influx of 2017.
Contacted, Home Minister Asaduzzaman Khan Kamal said, "I have been repeatedly saying that if Rohingyas stay here for a longer period, the problems, including those related to law and order, will become multidimensional."
"The militant group from Myanmar is basically creating trouble here."
The minister said the government is going to step up security on the border to stop the movement of the Rohingyas.
"The construction of watchtowers is also almost complete, and once those are functional, the situation will improve."
The home boss also said BGB personnel will be kept on standby in the camp areas to avert any untoward incident, while patrols within the camps will be increased.
"The criminals use the mobile SIM of Myanmar. We have already instructed the BTRC to block the network immediately."
About 750,000 Rohingyas fled a military crackdown in Myanmar in the weeks following August 25, 2017, and joined another around 300,000 Rohingyas who fled earlier waves of violence and took shelter in Cox's Bazar.