Nur now demands fresh Ducsu polls
Newly elected Ducsu VP Nurul Haque Nur today once again demanded a fresh election to the Dhaka University central students' boy bringing allegations of vote rigging and ballot stuffing.
"I boycotted the election yesterday demanding a fresh election, as the incident of vote rigging and ballot stuffing took place at many halls including Kuwait Maitree and Rokeya. I am still rigid on this demand," Nur said.
Claiming that the entire election process to the Dhaka University Central Students' Union (Ducsu) was faulty, Nur said his panel won two posts --VP and social welfare secretary -- thought the election was held in massive irregularities.
"Earlier in the day, I demanded reelection to all the posts except the two. If the reelection is held, then I would place my demand for a fresh election to all the posts," he said.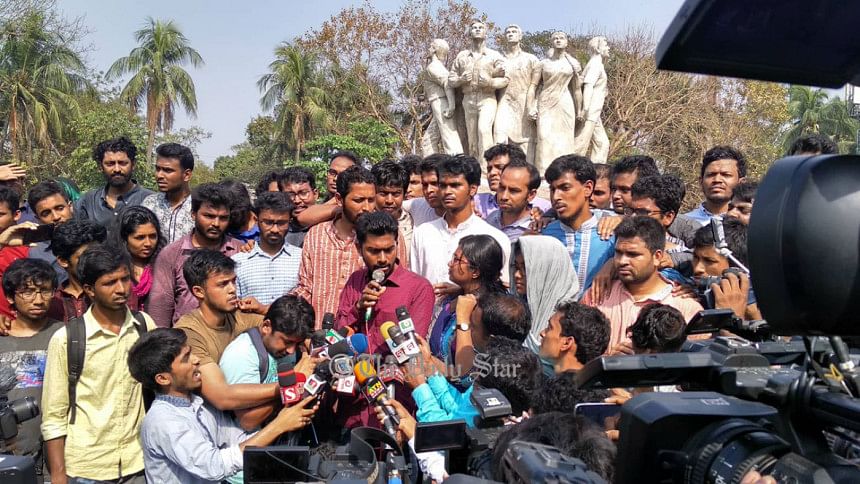 Nur came up with the demand in a press conference at the premises of the Teacher-Student Centre of the Dhaka University hours after DU Chhatra League President Rezwanul Huq Chowdhury Shovon, also a VP candidate, extended his all-out support to him (Nur).
Tension on the DU campus was apparently going to be defused as the BCL president who was also a VP contestant welcomed new Ducsu VP-elect Nuru and called upon him for accepting the polls result this afternoon.
About the withdrawal of the class boycotting programme, he said, "I announced to withdraw the programme as the BCL men expressed their sympathy for attacking me."
Earlier in the day, Nur, the popular quota reformist leader, said they will continue their class boycott programme until re-election to Ducsu is held. Nur was speaking at a press briefing after being attacked allegedly by Chhatra League men.
Meanwhile, several leaders of the opposition panels led by Liton Nondi, who was a VP candidate of Progressive Student Alliance, issued an ultimatum to the DU authority to go for a tough action programme if it does not announce election schedule for fresh Ducsu polls by three days.
"We will bring out a procession from the Raju Sculpture around 12: noon tomorrow and will submit a memorandum to the vice chancellor office after marching different streets on the campus to meet our demand," Liton Nondi said.