Quota leader shocks BCL
Takes top Ducsu post; BCL wins most hall unions amid allegations of irregularities; all major panels except BCL's boycott polls; VC impressed with voting; leftists, independents call for class boycott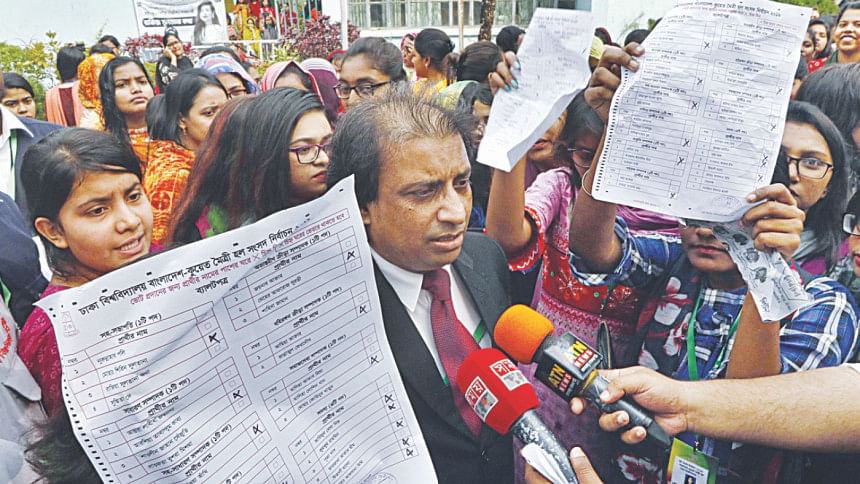 A quota reform leader won the vice president post of Dhaka University Central Students' Union while BCL leaders bagged the posts of general secretary and assistant general secretary.
The results announced by DU Vice Chancellor Md Akhtaruzzaman around 3:20am today show quota reformist Nurul Haq Nur secured 11,062 votes.  
BCL's GS candidate Golam Rabbani got 10,484 and AGS candidate Saddam Hossain around 15,000 votes. 
The panel backed by the pro-Awami League student organisation swept the hall unions in the election that ended in intimidation and irregularities with 59.5 percent voter turnout.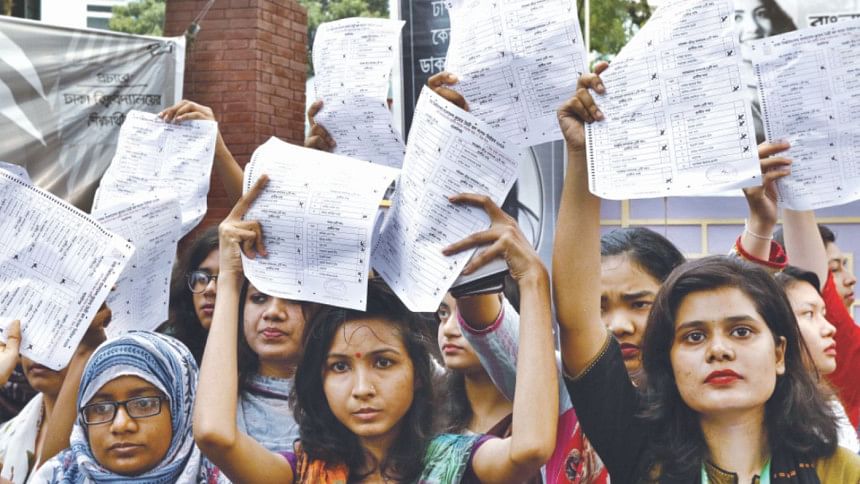 As soon as the VC announced the name of the VP-elect, the crowd present at the Nawab Ali Chowdhury Senate Bhaban started to shout "fake".
The VC remained silent for more than a minute. Amid the shouts of students, he struggled to announce the rest of the results.
The day began with high hopes for a fair Ducsu election pending for nearly three long decades.
Much before the voting started at 8:00am yesterday, Dhaka University students started lining up at their dormitories with enthusiasm.
However, much of the optimism that had gripped the country's top university was deflated soon. 
Prolonging the wait of voters allegedly by Bangladesh Chhatra League and boycotts by all rival organisations and groups alleging "irregularities and vote rigging" marred the much-hyped polls.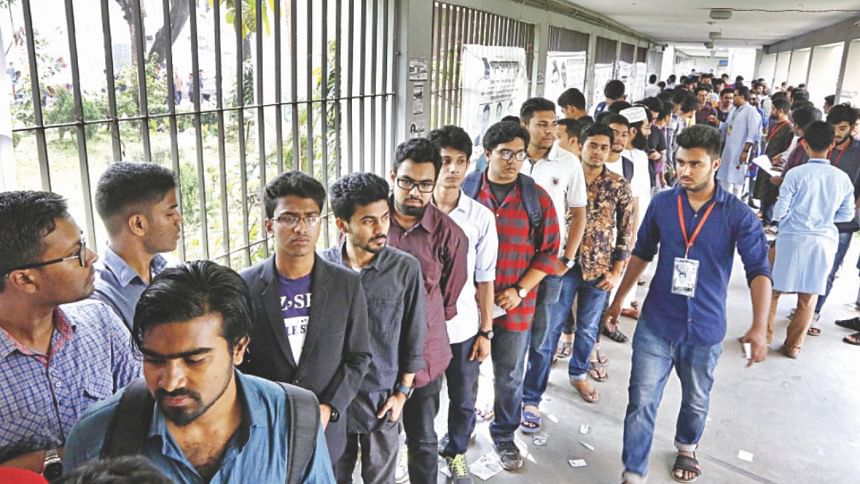 Panels of Jatiyatabadi Chhatra Dal, leftists, quota reformists and independent panels separately staged protests on the campus demanding re-elections.
Students of Bangladesh-Kuwait Maitree Hall recovered a stash of ballots, marked in favour of BCL panel for hall union polls, from beside a reading room of the dormitory.
Students of another female dormitory, Ruqayyah Hall, recovered unmarked ballot papers for Ducsu and hall union polls in two trunks from hall union room.
Both the incidents led to suspension of voting for about three hours at the halls as students protested "marking ballot papers at Maitree Hall before the polling began and an attempted electoral fraud at Ruqayyah Hall".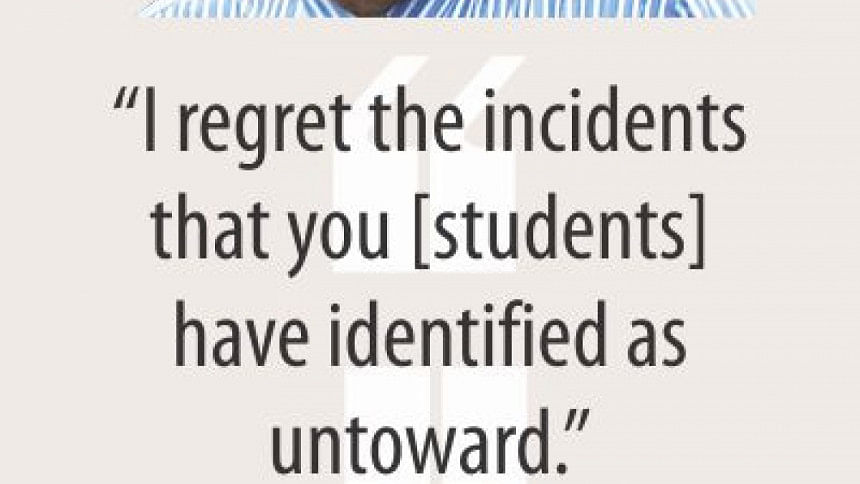 The university authorities removed the provost of Maitree hall and appointed a new provost after the incident.
Nurul Haq Nur, Ducsu vice president candidate from quota reformists' panel, was allegedly assaulted by BCL men at Ruqayyah Hall.
And leftist panel's VP candidate Liton Nandi was chased away from Haji Muhammad Mohsin Hall, witnesses say. Both went to the halls to see the election process.
Correspondents of this newspaper covering the election reported that in most cases, BCL men "maintained" the order of the queues at the polling centres.
On many occasions, BCL activists of respective halls stood in the lines even after casting their votes. They allegedly obstructed non-resident students from casting their votes by standing ahead of them in the queues.
BCL men were seen checking ID cards of students.
"Chhatra League members obstructed non-resident students and discouraged them to vote," said a statement of eight teachers who voluntarily observed the election.
"We are ashamed of the irregularities that took place during the election," the teachers said and demanded a re-election.
A resident student of Haji Muhammad Mohsin Hall alleged that Chhatra League men forced them to wear badges of the organisation-backed panel.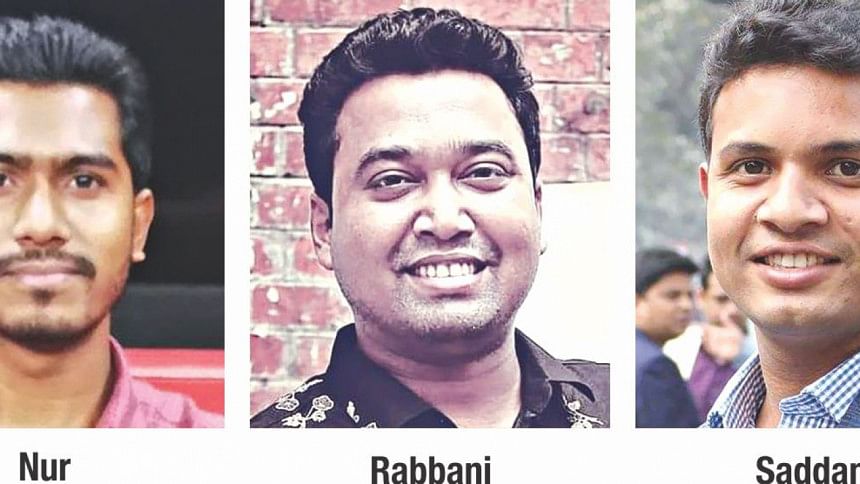 "Chhatra league men were standing in the line even after casting their votes," said another student of the same hall. "They were standing in front of non-resident students to delay their voting."
Similar situation was found at almost all male dormitories.
Our reporters present at Haji Muhammad Mohsin Hall, Dr Muhammad Shahidullah Hall and other dormitories heard BCL men asking their followers to take 10, 15 or 20 minutes to cast vote.
Voting was withheld for an hour from 10:00am at female dormitory Kabi Sufia Kamal Hall as its students wanted to see empty ballot boxes.
Independent VP candidate for the hall union, Mehnaj Akter, said the authorities did not show them all the five empty ballot boxes before start of voting. As the vote started with two ballot boxes, students demanded to see the other three.
"As the students brought out a procession, they showed us the rest two boxes," she said. "We are not sure what happened in the meantime."
BOYCOTTS
"We are rejecting the Ducsu election with disgust. This is a farce and a forged election," Pragatishil Chhatra Oikya candidate Liton Nandi said at a press conference at Madhur Canteen around 1:00pm, one hour before voting ended.
Representatives of quota reformists' platform Bangladesh Sadharan Chhatra Adhikar Sangrakkhan Parishad, left organisation Chhatra Federation, independent candidates' alliances Swadhikar Swtantra Parishad and Swatnara Jote were also present at the press conference.
"We want a re-election after cancellation of this election," Liton said, adding that they would go for class and exam boycotts today if the authorities do not cancel the polls.
About 10 minutes later, JCD's VP candidate Mostafizur Rahman announced that they are also boycotting the election.
"This is a staged election. It is vote looting and in fact the election took place on the night before the voting day," he said. He also wanted a re-election under the teachers who are not biased to any party.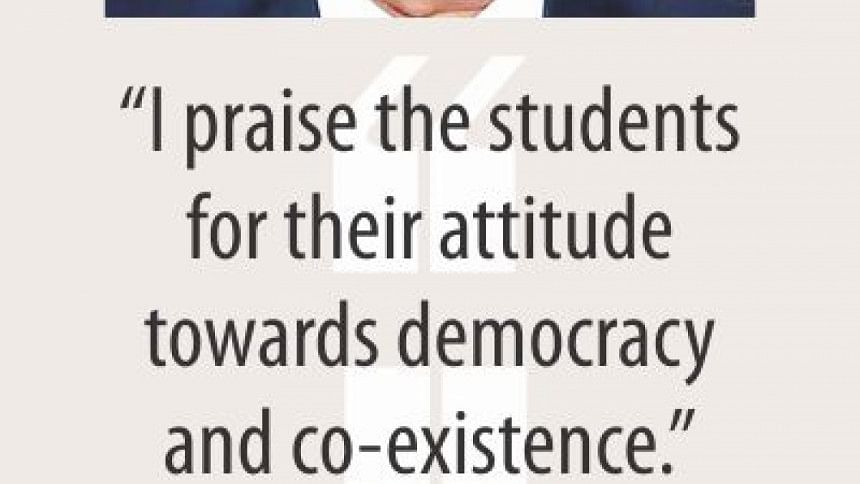 DU Vice Chancellor Md Akhtaruzzaman, however, said the environment of the elections were normal except for a few isolated incidents.
"The students have shown a stance for democracy and mentality of co-existence, which is commendable and praiseworthy," Akhtaruzzaman told The Daily Star.
Those who boycotted the election submitted a written complaint to the chief returning officer bringing allegations of obstructing non-resident students, attacking candidates, playing hide and seek over the ballot boxes and creating artificial voting lines to linger the voting process.
Chief Returning Officer SM Mahfuzur Rahman expressed regret for some untoward incidents during yesterday's election and said the complaint will be forwarded to election steering committee.
Since the announcement of the election schedule, there were apprehensions over the fairness of the polls.
BCL's Ducsu general secretary candidate Golam Rabbani denied the allegations of being indulging in intimation and creating obstacles to any voters.
"You have to say specifically where someone faced obstacles," he said from a post-poll press conference at Madhur's Canteen.    
"We wanted 100 percent vote casting so we are cordial with voters. Whenever we heard there is some problem, we rushed to solve it."
Except for BCL, all the student organisations and independent candidates demanded that the polling centres be set up at the academic buildings of the university, instead of the dormitories.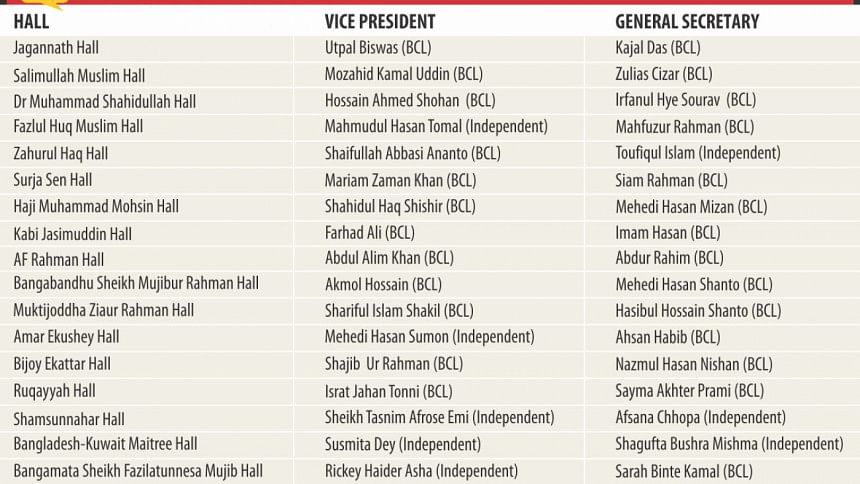 They pointed out that since BCL has the supreme dominance in the halls, fair election is not possible if voting takes place there. However, the university authorities did not accept it.
They also raised concern about the non-transparent ballot boxes and sending those to the halls day before the polls.
It was alleged that as the provosts and house tutors are either supporters or leaders of the pro Awami League teachers' panel, there is a chance of vote rigging. Many candidates were sceptical about returning officers' role in the election.
RESULTS
During the vote count by teachers in halls, candidates or their representatives were allowed to stay but no journalists had the access, DU sources say.
No representatives from the panels that boycotted the polls were seen there, they added.
BCL bagged both vice-president and general secretary posts in 10 out of the 18 halls in the hall union elections, according to the respective returning officers.
BCL candidates won the VP post in Zahurul Haq Hall and GS posts in Fazlul Huq Muslim Hall and Amar Ekushey Hall.
The 10 halls where they took both the posts are: Jagannath Hall, Salimullah Muslim Hall, Dr Muhammad Shahidullah Hall, Surja Sen Hall, Haji Muhammad Mohsin Hall, Kabi Jasimuddin Hall, AF Rahman Hall, Bangabandhu Sheikh Mujibur Rahman Hall, Muktijoddha Ziaur Rahman Hall and Bijoy Ekattor Hall.
Meanwhile, independent candidates bagged VP posts at Fazlul Huq Muslim Hall and Amar Ekushey Hall and GS position in Zahurul Haq Hall.
In the female hall elections, independent candidates won both VP and GS positions in Shamsunnahar Hall, Kabi Sufia Kamal Hall and Bangladesh-Kuwait Maitree Hall.
An independent candidate also won VP position in Bangamata Sheikh Fazilatunnesa Mujib Hall, where a Chhatra League candidate was elected to the GS post.
Chhatra league bagged both the VP and GS positions at Ruqayyah Hall.
BCL panel for Ducsu consists of Rezwanul Haque Chowdhury Shovon for vice president, Golam Rabbani for GS and Saddam Hossain for AGS.
JCD panel comprises Mostafizur Rahman for VP, Anisur Rahman Khandoker Anik for GS and Khorshed Alam Sohel for AGS.
Candidates of quota reformists' platform Bangladesh Sadharan Chhatra Adhikar Sangrakkhan Parishad include Nurul Haque Nur for VP, Rashed Khan for GS and Faruk Hasan for AGS.
Leftist Pragatishil Chhatra Oikya includes Liton Nandi for VP, Faisal Mahmud for GS and Sadikul Islam Sadik for AGS.