'BCL activists' pounce on boycotters, target Nur
Alleged activists of Chhatra League have assaulted opposition activists at Dhaka University, especially targeting Ducsu's VP-elect Nurul Haque Nur.
The opposition activists were parading for a re-election to Dhaka University Central Students' Union (Ducsu), when the attack took place around 2:00pm.
Nur, freshly back from hospital after yesterday's attack, was at the rally.
Our staff correspondent reports from the spot, a group of youths went charging at the activists who were speaking to journalists after demonstration at TSC.
The assaulters were shouting slogans, crying out against Nur and that he would not be allowed to enter Dhaka University campus. They beat up activists and threw brickbats.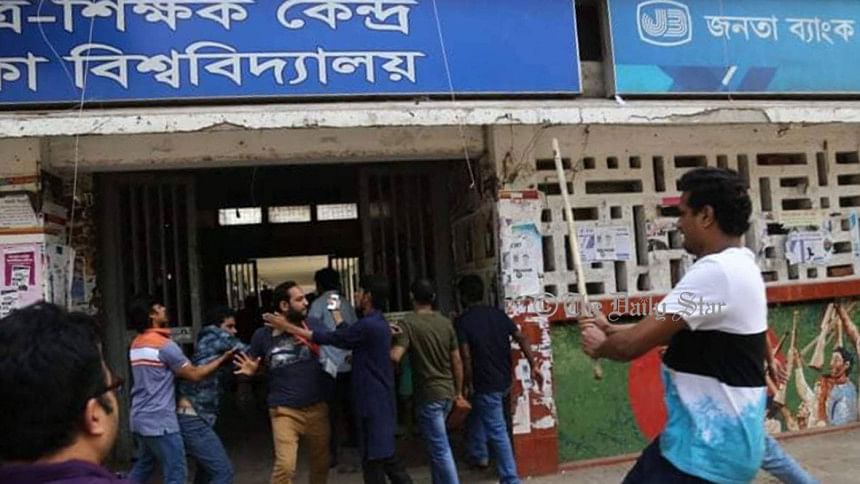 The opposition activists including leftists, independents, quota reformists and even BNP's JatiyatabadiChhatra Dal who were there at the moment, were dispersed.
Later, the activists brought out another protest rally at campus in protest of the attack they said were carried out by the activists of Bangladesh Chhatra League.
Previously, Chhatra League activists were demonstrating near the vice chancellor's residence today demanding expulsion of Nur and refusing him as the VP of Ducsu.
WHAT HAPPENED TO DUCSU ELECTION?
The 28-year-long wait to Ducsu election was marred in election boycott of all the major panels over allegations of irregularities and vote rigging.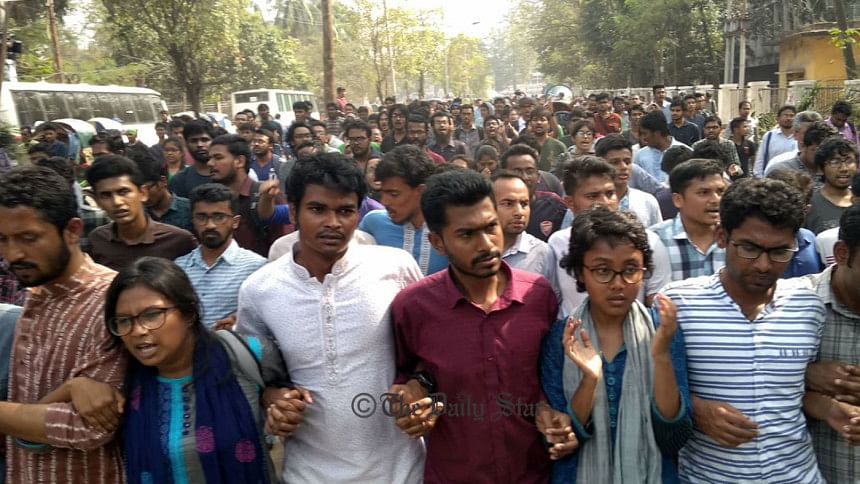 Only Chhatra League was the major panel left contesting in the election.
Chhatra League men burn a tyre and block an entrance to Dhaka University at Nilkhet on March 12, 2019 in protest against the election result of Ducsu. Photo: Rafiul Islam
The opposition panels exploded in protests after boycotting the election and protested in campus demanding a re-election to Ducsu. They called a student strike.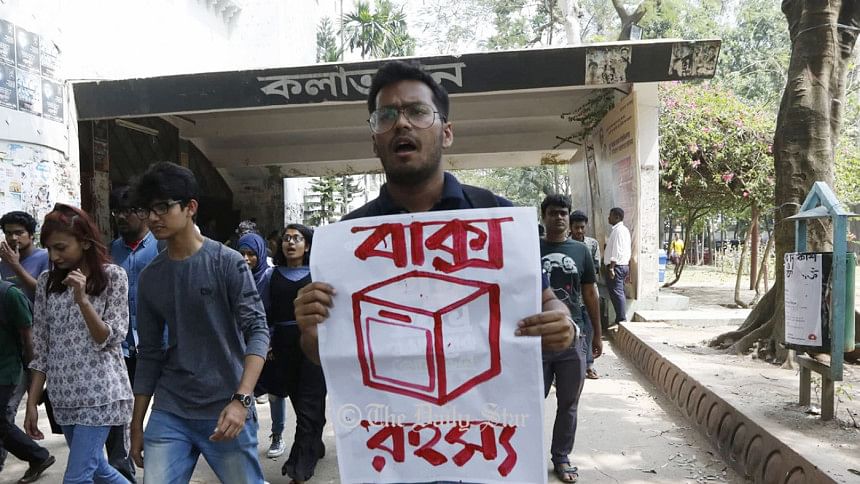 Proof of irregularities was found in Bangladesh-Kuwait Maitree Hall, for which the provost was relieved of duties yesterday. Stashed unstamped ballots were found in Ruqayyah Hall.
Also, there has been physical assault on Nurul Haque Nur and another attempted attack on leftists' panel leader Liton Nandi.
Later, in the results announced in the wee hours of today, Nur was announced as the VP candidate, Chhatra League's Golam Rabbani as secretary, and Saddam as assistant general secretary.
Several students were injured as Chhatra League activists attacked on their demonstration on the Dhaka University campus this afternoon.