Boycotters demo for VC's removal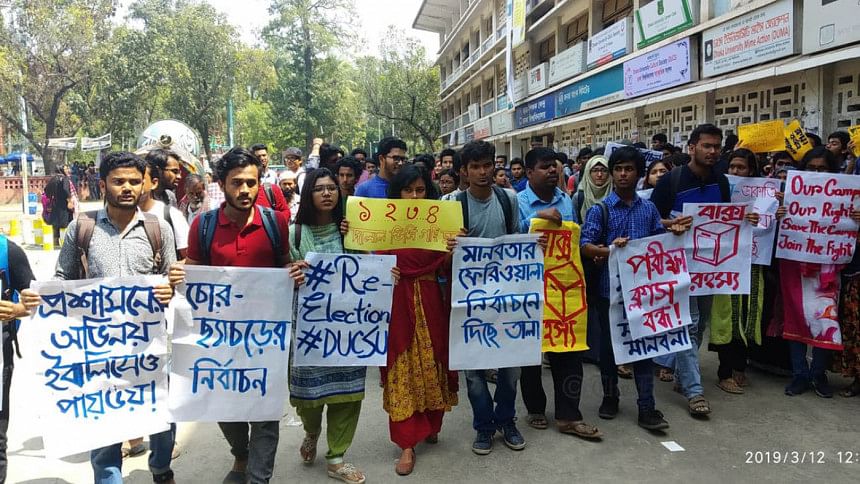 The major panels which pulled out of election to Dhaka University Central Students' Union (Ducsu) are demonstrating for removal of the university's vice-chancellor.
The panels of leftists, independents, quota reformists and others were staging protests at TSC in rejection of the election and demanding a re-election to Ducsu.
Their demonstration was underway alongside the protests of ruling party's front Bangladesh Chhatra League who have refused the new VP-elect Nurul Haque Nur.
"The election process is unacceptable, whatever the outcome may be," said Liton Nandi, the VP candidate panel leader of Progressive Students Unity.
"If a Dhaka Unviersity student's right to vote is snatched away, it can never be termed a fair election. If it was a fair election, we would have seen far different results," he said.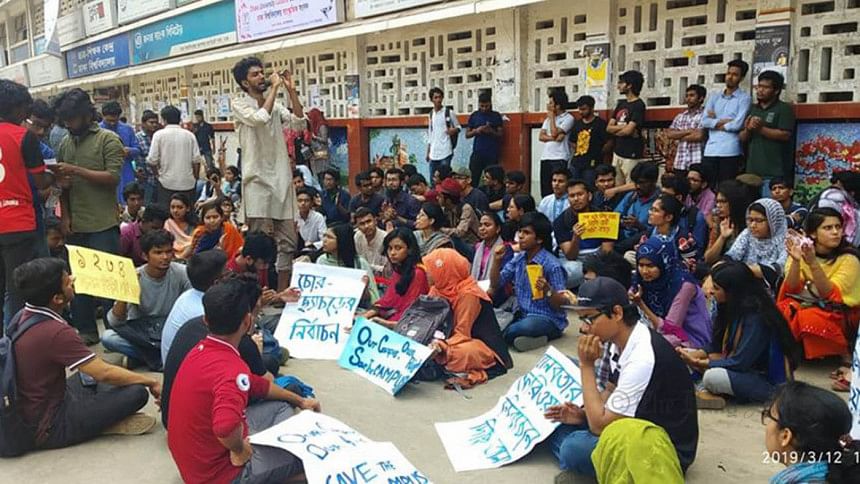 Nur, the popular quota reformist leader, was elected VP in results declared. Chhatra League had the posts of general secretary and assistant general secretary.
"Results in the girls' hall where irregularities were opposed saw independents elected. This shows how the results could have been in a fair election," said Aroni Samonti Khan, the VP candidate of the independent panel at the protest.
She said: "The students are upset. They did not want to see an election to Ducsu like this after a long wait of 28 years."
WHAT HAPPENED IN DUCSU ELECTION?
The 28-year-long wait to Ducsu election was marred in election boycott of all the major panels over allegations of irregularities and vote rigging.
Only Chhatra League was the major panel left contesting in the election.
The opposition panels exploded in protests after boycotting the election and protested in campus demanding a re-election to Ducsu. They called a student strike.
Proof of irregularities was found in Bangladesh-Kuwait Maitree Hall, for which the provost was relieved of duties yesterday. Stashed unstamped ballots were found in Ruqayyah Hall.
Also, there has been physical assault on Nurul Haque Nur and another attempted attack on leftists' panel leader Liton Nandi.
Later, in the results announced in the wee hours of today, Nur was announced as the VP candidate, Chhatra League's Golam Rabbani as secretary, and Saddam as assistant general secretary.