Chaos, agitations take centre stage
BCL, Ducsu VP-elect keep changing stances throughout day of drama; Nur now wants re-polling to all posts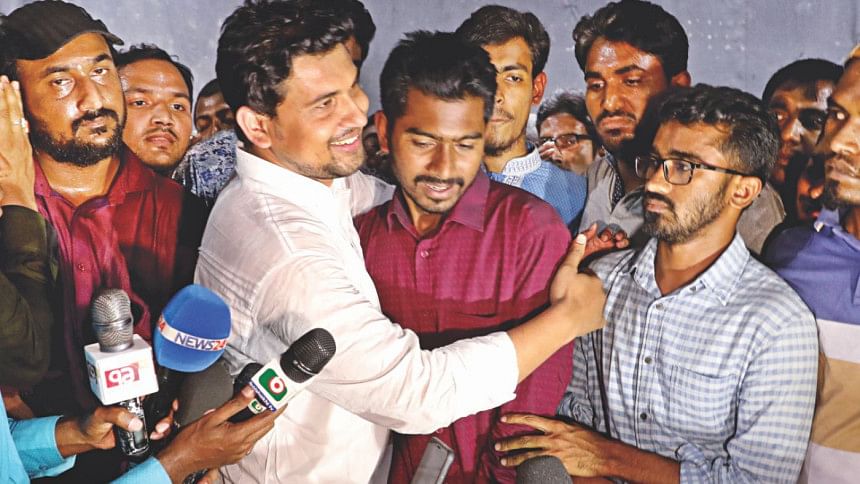 The pre-dawn announcement of Ducsu polls results led to daylong chaos, agitation and drama on Dhaka University campus yesterday with the vice president-elect and BCL shifting their stances.
Tensions appeared to be easing when BCL President Rezwanul Huq Chowdhury Shovon met and hugged Ducsu VP-elect Nurul Haque Nur around 4:30pm, conceding his defeat. But that would be hardly the case.
A VP candidate backed by the pro-ruling party organisation, Shovon said he would accept the result and extend their all-out support to the leader of quota reform movement.
And Nur withdrew the class boycott, saying Shovon personally regretted the attack on him earlier in the day. 
An hour and a half later, things took a new turn when he demanded re-election to all the posts of Ducsu.
Hours before his decision of withdrawing the class boycott, Nur had told reporters that he wanted re-election to all the Ducsu posts "except the VP and social welfare secretary".
But Liton Nandi, leftist panel's VP candidate, threatened to go for tougher movement if the university administration does not come up with the announcement of re-polls in three days.
Both Nur and Liton boycotted the election when the voting was still underway on Monday.
The DU authorities, which drew flak for "siding with" the pro-government student organisation and "failing to check irregularities" in the election, said re-election is not possible.
Elections to Dhaka University Central Students Union (Ducsu) and hall unions, pending for long 28 years, were held on Monday amid boycotts by most of the prominent panels citing "irregularities".
Bangladesh Chhatra League swept the hall unions and secured most of the Ducsu posts, but bagging of the top post by Nur and social welfare secretary post by another quota reformist touched off protests from the BCL activists.
Besides, defeat of Shovon despite BCL's sweeping victory triggered speculations about a possible rift within the country's oldest student organisation.
BCL AGITATION
When DU Vice Chancellor Md Akhtaruzzaman announced the name of the VP-elect at 3:20am yesterday, the crowd present at the Nawab Ali Chowdhury Senate Bhaban burst into shout: "fake, fake".
The VC remained silent for minutes. Amid the commotions, he struggled to announce the rest of the results.
A group of BCL activists soon took position in front of the VC's residence. At first, some of them demanded re-election to all Ducsu posts terming the election a farce and later pressed for re-polls only to the VP post.
"We are demanding re-polling only for VP as elections to other posts were okay," Alimul Haque, former deputy library secretary of BCL central committee, told The Daily Star during the protest.
"How can a Shibir man be elected VP of Ducsu? We can't accept it," he said as many from his organisation often claim that Nur has links to Islami Chhatra Shibir, the student wing of anti-liberation Jamaat-e-Islami.
Asked why they did not protest when the authorities found nothing wrong with Nur's candidature, Alimul did not give any direct answer.
"A case has already been filed against him," he said, referring to the case against Nur and several others on the allegations of vandalism in Ruqayyah Hall and spreading falsehood about election.
Shahidul Haque, vice president of Mohsin Hall Chhatra League, said they would continue their protest unless their leaders decide otherwise.
"We have no problem with other posts," said Shahidul, the newly elected VP of Mohsin Hall.
BCL activists also raised questions about the delay in result announcement.
"Results of hall union elections were announced by evening. Then why the authorities took time till 4:00am [next day] to announce Ducsu polls result?" asked Shahidul.
Around 10:00pm, some 100 students of Ruqayyah Hall held demonstrations inside the hall demanding re-elections and resignation of their provost citing "vote rigging".
Earlier around 5:00pm, four independent candidates began a fast unto death at the base of Anti-Terrorism Raju Memorial Sculpture, demanding re-election and resignation of the vice-chancellor.
ATTACK
Around 11:00am, leaders and activists of the panels who boycotted Mondays' election gathered in front of TSC and staged demonstration demanding re-elections and resignation of the VC.
Around 1:30pm, Nur, bringing out procession on the campus from Shahbagh, joined leaders of other panels and independent candidates at TSC.
Around 15 minutes later as Nur was talking to reporters, a group of 30-40 alleged Chhatra League men wielding sticks and brickbats swooped on them, chanting slogan against the quota movement leader.
They chased Nur and other leaders and beat up some of them. They threw brickbats when Nur and other leaders were leaving the spot to take shelter inside TSC.
The Jatiyatabadi Chhatra Dal leaders who were close by also came under attack.
An attacker was heard saying, "We have no enmity with Chhatra Dal and leftists. Find Shibir leader Nur and give him a good beating."
Then they entered TSC and looked for Nur.
At least three persons including JCD leader Tawhidul Islam was injured in the attack. 
Within a couple of minutes, the alleged BCL men left the place chanting slogan against Nur.
Later, leaders and activists of quota reform group and other panels led by Nur brought out a procession, demanding punishment of the attackers as well as resignation of the Dhaka University vice chancellor.
Amid a tense situation since the morning yesterday, no classes and examinations were held at the university with law enforcers taking position in and around the campus.
RE-ELECTION, NO NEGOTIATION
At 2:45pm, under the base of the iconic Raju Sculpture -- an embodiment of the power of student movement against oppression -- Nur said the Chhatra League would not have won a single seat if the election had been free and fair.
"None of the Chhatra League men will be elected if a fair election is held. We will continue our movement involving the general students demanding a fresh election," Nur told a gathering of reporters.
He then alleged that BCL's victory was down to the administration's help.
"If our VC sir can give free and fair polls, Chhatra League will not even win a member post. If they can, I will leave my studentship and resign from the VP post."
Asked if he wanted re-election or if he would take oath, Nur said they had won the election, despite the rigging. "We won but they have been made winners. So we want re-election to all posts, except to the posts of VP and social welfare secretary."
When journalists asked him about his affiliation with Shibir as alleged by BCL, Nur said it was the work of "Gujob [rumour] Bahini" to tarnish his image, something they had done during the quota reform and road safety movements.
Nur then called for a boycott of classes and examinations for an indefinite period from today.
Earlier, when asked about re-election, DU VC Akhtaruzzaman had said, "The election is over", a sentiment echoed by the pro-VC.
THE HUG
Around 4:30pm, while Nur was in a meeting at TSC auditorium with the five panels that had rejected the election, his rival Shovon turned up and lent his support to Nur.
The two then embraced one another in an unexpected show of unity.
"He won … We all have to accept it for the sake of congenial atmosphere on the campus…I congratulated Nurul Haque on behalf of Bangladesh Chhatra League on becoming the Ducsu VP in an election held after 28 years," said the BCL president.   
He urged DU students to help Nur and continue on with the classes. But he also asked Nur to act responsibly as "a VP does not belong to any individual or party but rather to the whole organisation".
"Nurul Haque will fulfill our all demands," Shovon said.
Afterwards, Nur thanked the BCL leader, saying, "We want all the student organisations to work jointly to make the university an education friendly institution…"
But emerging from the meeting, Nur said as the five panels had decided to boycott the election to protest the gross irregularities, he "as the representative of students" also agreed with them.
"I will also request the university authorities to take necessary steps so the election, held after 28 years, is accepted by all," he said, demanding a fresh election for all posts, including to VP and social welfare secretary.
"…I think the whole election can be held afresh," he said and urged teachers involved in the election to step down and announce a new schedule.
He then withdrew the class boycott announced following the attack.
RE-ELECTION OR TOUGHER ACTION
Around 6:30pm, Liton Nandi, the VP candidate of Progressive Student Alliance, said they would go for tougher movement if the authority did not announce re-election. Today they will give a memorandum to the VC following a demonstration on campus.
The authorities, however, said re-election is not possible.
"The election is over. The results are out. We must follow democratic procedures and the Ducsu code," DU Vice Chancellor Prof Akhtaruzzaman said, replying to the query whether there can be a re-election.
Prof Muhammad Samad, a pro-vice chancellor of DU, said "We do not see any scope for re-election of Ducsu."