Hasina 30th on Forbes' Power Women list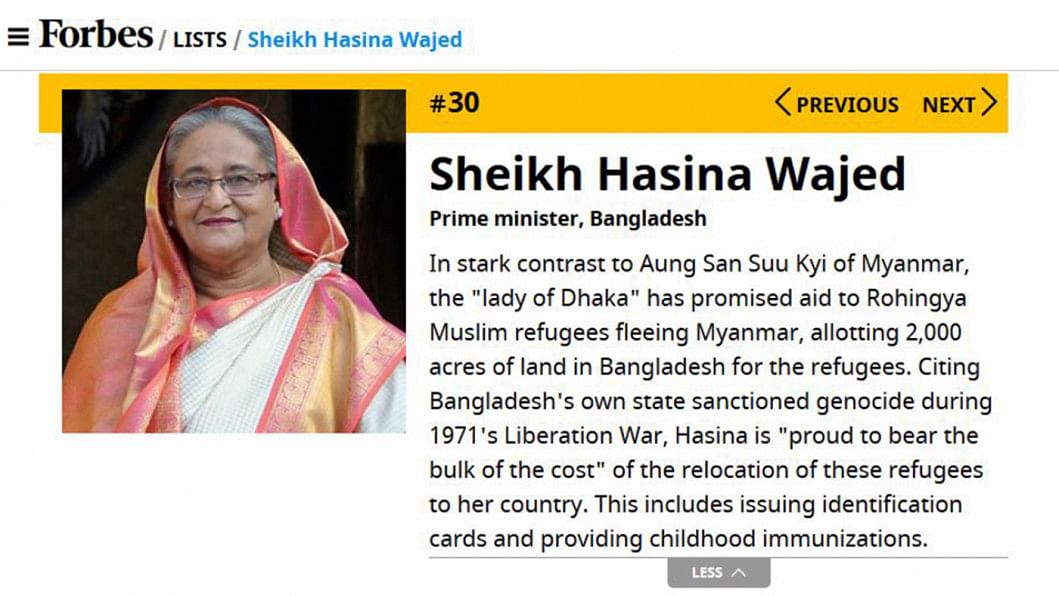 Three-time Prime Minister Sheikh Hasina ranked 30th on the 2017 Power Women list of Forbes magazine published yesterday.
She was 36th last year and 59th in 2015.
In stark contrast to Aung San Suu Kyi of Myanmar, the "lady of Dhaka" has promised aid to Rohingya Muslim refugees fleeing Myanmar, allotting 2,000 acres of land in Bangladesh for the refugees, Forbes said on its website.
Citing Bangladesh's own state sanctioned genocide during 1971's Liberation War, Hasina is "proud to bear the bulk of the cost" of the relocation of these refugees to her country. This includes issuing identification cards and providing childhood immunizations, it added.
German Chancellor Angela Merkel retained the top spot followed by an unexpected newcomer, UK Prime Minister Theresa May (No 2), who is leading her country through Brexit, a historic, complex and transformative time for the country and the European Union. May is followed by Melinda Gates, co-chair of the Bill & Melinda Gates Foundation, who, along with her husband Bill, has distributed more than $40 billion in grants to date and supports organisations in over 100 countries, says a report in this regard by Forbes.  
Facebook COO Sheryl Sandberg (No 4) and GM CEO Mary Barra (No 5) round out the top five.
The survey features 100 women from 29 countries who represent sectors such as politics, business, technology and philanthropy.
In the survey Forbes used four metrics: money (either net worth, company revenues, assets, or GDP); media presence; spheres of influence; and impact, analysed both within the context of each woman's field (media, technology, business, philanthropy/NGOs, politics, and finance) and outside of it.