'Plot to kill Joy': Mahmudur on fresh remand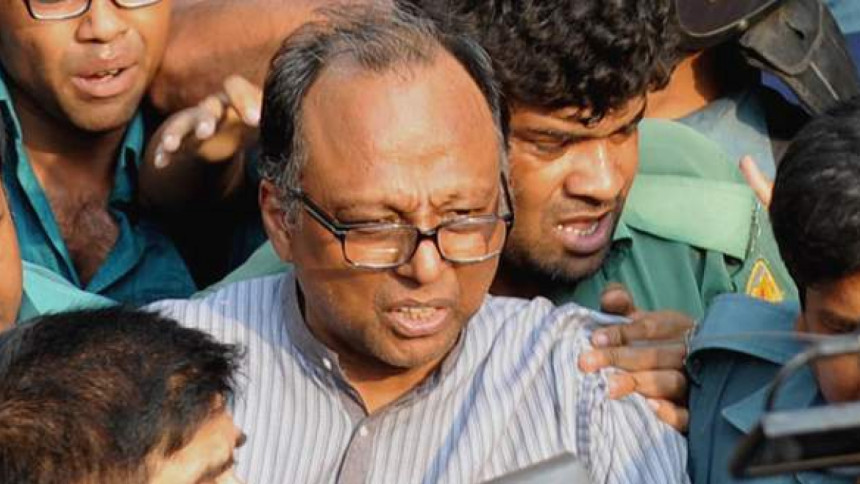 Daily Amar Desh acting Editor Mahmudur Rahman has been remanded for the second time in a case filed over alleged plot to kill prime minister's son Sajeeb Wazed Joy.

Detective Branch senior Assistant Commissioner Hasan Arafat produced Mahmudur before a Dhaka court this afternoon and sought him in a week's remand for quizzing.

READ more: Expat BNP leader sued over 'plot to kill Joy'

After hearing, Metropolitan Magistrate Pranab Kumar Hui granted a five-day remand.

Earlier, he was placed for five days in remand on April 25.
Also READ:  Police claim journalist Shafik Rehman named three others

THE CASE

The case was filed by DB Inspector Fazlur Rahman with Paltan Police Station in August last year.

According to the case statement, Caesar's father Mohammad Ullah Mamun, vice-president of BNP's cultural wing Jasas, and some top leaders of the BNP and its allies met in the UK, the US and various places of Bangladesh before September 2012 and conspired to abduct and kill the PM's son.

READ more: Ex-FBI agent pleads guilty

In March last year, Caesar was convicted by a US court for bribing an FBI special agent to collect information regarding a Bangladeshi political figure.

The US Justice Department did not name the figure, but it is believed to be Joy.

In a Facebook post on March 9 last year, Joy, also ICT affairs adviser to the prime minister, accused BNP leaders of conspiring to abduct and kill him.