Mahmudur held in Skype case
Shown arrested in two other cases; police raid, lock Amar Desh press; Khaleda, Hefajat lead condemnation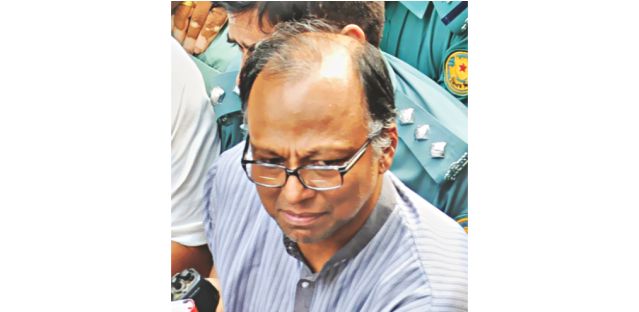 Mahmudur Rahman, acting editor of Bangla daily Amar Desh, was placed on a 13-day remand, hours after he was arrested at his newspaper office in the capital's Karwan Bazar yesterday.
Chief Metropolitan Magistrate's Court in Dhaka granted the remand after police produced Mahmudur with a prayer for 24 days' remand in three cases.
In another development, police last night locked the Amar Desh press and seized a computer and some documents. It means the daily may not come out today.
However, talking to The Daily Star around 2:20am today, Amar Desh Press Manager Mohiuddin Jilani claimed the management was making alternative arrangements to print as many copies as possible for today.
In the first case, Mahmudur was charged with sedition by publishing Skype conversations between Justice Md Nizamul Huq, then chairman of International Crimes Tribunal-1, and Ahmed Ziauddin, an expatriate Bangladeshi legal expert.
Sahidur Rahman, prosecutor of the war crimes tribunal, filed the case with Tejgaon Police Station on December 13 last year.
Home Minister Muhiuddin Khan Alamgir said Mahmudur was arrested under Bangladesh Penal Code and in a case lodged under Information and Communication Technology Act, 2006.
According to the case statement, Mahmudur Rahman, by publishing conversations after hacking Skype, created a negative impression about the tribunal at home and abroad and obstructed its proceedings and exercise of legal authority.
Amar Desh published the conversations on December 9, 10, 11, 12 and 13 last year. Amid controversy, Justice Nizamul Huq resigned on December 11.
Also yesterday, Mahmudur was shown arrested in two other cases filed last month with the same police station, even though his name was not included in the first information reports.
One of the cases was filed on March 17 in connection with hartal and pre-hartal violence and another on March 26 for assaulting police and obstructing their work.
A former energy adviser of the BNP-Jamaat-led alliance government, he was placed on a seven-day remand in connection with the Skype case and a three-day remand each in the other two cases.
The acting editor was arrested around 9:00am from Amar Desh office. He had been staying there to evade arrest since he was sued along with the daily's Publisher Hasmat Ali in the Skype case.
Since dawn, plainclothes detectives had been moving about the BSEC Bhaban, which houses Amar Desh office on its 10th floor, witnesses say.
Saiful Islam, security guard of the building, said a huge contingent of DB and Tejgaon police personnel went to the BSEC Bhaban in seven vehicles around 8:45am and shut down nearby shops.
The cops then stormed the newspaper office and asked Mahmudur to get ready to go with them, said some of the police members who took part in the drive.
Shouting and thumping the table, Mahmudur, who was in lungi at that time, told the police that they always showed up at inappropriate time, they added.
Mahmudur was taken to the DB headquarters on Minto Road, where he was kept till 2:25pm, and then moved to the CMM's Court. During the stay at DB headquarters, his mother, wife and staff of Amar Desh wanted to meet him but were refused.
The staff of the newspaper protested the arrest and alleged that police had taken away hard discs from several computers and video footage from closed circuit cameras.
Later, around 8:30pm, detectives teamed up with Tejgaon police began a two-hour drive. At the end of the raid, they locked the printing press of the daily and seized a computer of the press manager and some documents.
Mohiuddin Jilani, the press manager, said, "Police asked us to leave, saying from now on nobody will be allowed in the press without a court order. They would stand guard at the gate."
This correspondent saw five to six policemen guarding the press around 11:00pm.
The drive was launched following a Dhaka court's directive, said Biplab Sarkar, deputy commissioner of police (Tejgaon division). He added that the court ordered seizure of all the materials related to the Skype case.
Meanwhile, BNP Chairperson Khaleda Zia yesterday strongly denounced the arrest of Mahmudur Rahman and demanded his immediate release.
Factions of Dhaka Union of Journalists and Bangladesh Federal Union of Journalists held a protest rally in front of the Jatiya Press Club and issued a 24-hour ultimatum to the government to release Mahmudur.
Besides, different organisations, including Jamaat-e-Islami, Bikolpodhara Bangladesh, Hefajat-e Islam, Islami Chhatra Khalefat Andolon, Asian Human Rights Commission, Doctors' Association of Bangladesh and Nagorik Odhikar Rokkha Committee, condemned the arrest.
On June 2, 2010, Mahmudur Rahman was detained in a case filed for resisting arrest, assaulting law enforcers and preventing them from performing their duties. Later, 49 cases were filed against him.
The Supreme Court on August 19 the same year sentenced him to six months' imprisonment and fined him Tk 1 lakh for contempt of court. He was released on March 17, 2011.
AT COURT
Yesterday, Mahmudur was produced before the court around 3:00pm and the hearing on the remand prayer was held in his presence. Without appointing any lawyer, he opposed the prayer. He, however, refrained from seeking bail.
During the hearing, he claimed he had not committed any offence by publishing the Skype conversations because they were published in The Economist before.
The charges in the case brought against him were false, fabricated and concocted, he said, adding, "I know well that if I appoint any lawyer, he or she will submit prayers for my bail and cancellation of the remand prayer foolishly."
"The court will act on whatever decision comes from the government," Mahmudur alleged. He told the court that the charges brought against him in two other cases were also false as he had been confined at his newspaper office since December 13.
"So how could I commit such offences of vandalising vehicles and assaulting police?" he questioned.
At one stage of the hearing, the prosecution and pro-BNP lawyers were locked in heated debate when Mahmudur hurled abusive words at the public prosecutors. The magistrate of the court intervened to calm the situation.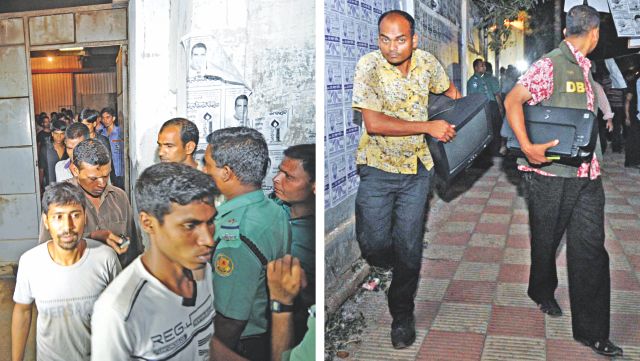 Workers vacate the printing press of daily Amar Desh at the capital's Tejgaon during a raid last night. Right, detectives seize some documents and computer parts from the press. Photo: Star
CONDEMNATION 
Terming Mahmudur an outspoken person against the government's anti-people policy, BNP Chairperson said in a press release, "The government's Baksali character has been revealed through Mahmudur's arrest."
Criticising the government, Bikolpodhara Bangladesh President AQM Badruddoza Chowdhury said, "Arrest of acting editor of the daily Amar Desh, known as a BNP mouthpiece, is considered to bring serious disaster for the country's democracy."
Describing Mahmudur as "heartbeat of Islam-loving people," Hefajat-e Islam of Dhaka city unit, in a statement, lambasted the government for arresting him. "We think he [Mahmudur] was arrested in a planned way to make anti-Islamists and atheists happy."
The Chittagong-based Islamist group also issued a threat that "the whole country will be on fire if Mahmudur is not released."
Mentioning that Mahmudur has won the hearts of millions of devout Muslims by exposing atheists through his daily, the Hefajat leaders said the government was committing excesses only to meet the demands of a few atheists.
Azizul Haque Islamabadi, organising secretary of Hefajat, told The Daily Star that the organisation would bring out a protest procession after Juma prayers today and hold a protest rally at Anderkilla intersection afterwards.
This demonstration will also be observed across the country after juma prayers, he said, also adding that the declaration of further movement would be announced today.
A faction of Islami Oikya Jote leaders in a meeting yesterday threatened that "the whole country will be burnt if Mahmudur is not released immediately."