Stand beside flood-affected people: Fakhrul to BNP men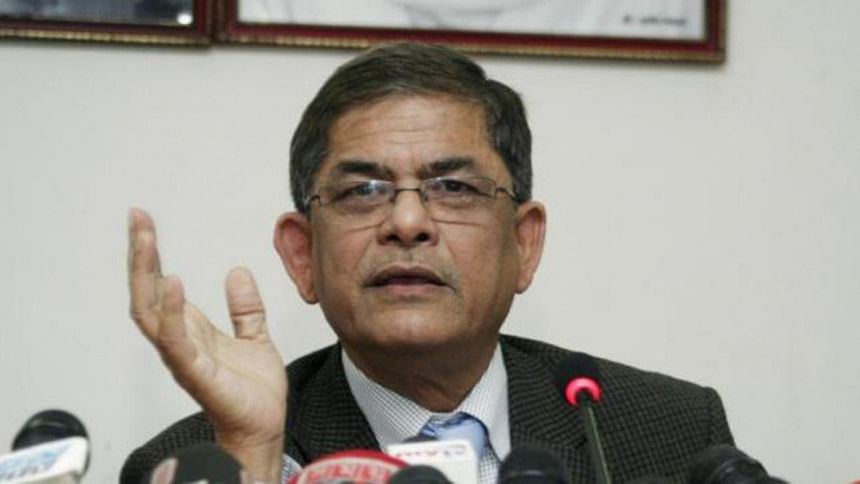 BNP today directed the party's leaders and activists across the country to stand beside the flood-affected people with relief materials.
"We took the decision to stand beside the flood victims and our party's central relief work committee has been asked to carry out relief work," Fakhrul told journalist after the party's national standing committee meeting at Khaleda Zia's Gulshan office in Dhaka this evening.
He said different parts of the country have already inundated due to heavy rainfall and the pouring water from India.
Govt failed to solve Rohingya crisis  
Fakhrul said the Rohingyas have already mounted pressure on the country's independence and sovereignty, but the government has failed to undertake an effective step to put an end to the crisis.
"We have expected that there will be a positive answer from the prime minister after her recent China visit, but we didn't get anything. We will brief the diplomats about the issue immediately. And before this, we will inform the countrymen through a press conference," he added.
Programmes demanding Khaleda's release
Responding to a query about the party's next course of the programme, Fakhrul said public rallies will be held in Barishal on July 18 while in Chottagram on 20 and in Khulna on July 25 to realise the demand for the immediate release of party's Chairperson Khaleda Zia from jail.
"We will be able to hold rallies in the rest divisional headquarters on the same issue by July 30," he responded to a journalist query.