Quader should apologise in stadium: Fakhrul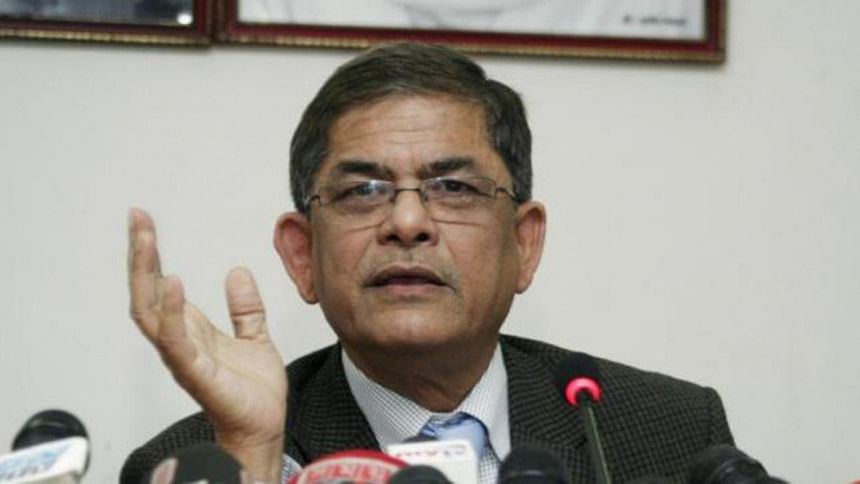 BNP Secretary General Mirza Fakhrul Islam Alamgir yesterday asked his ruling party counterpart Obaidul Quader to apologise publicly for committing the offence of "vote rigging" in the 11th parliamentary election.
"Now, they [govt] are unable to handle such a major rigging... ask Mr Quader (AL general secretary) to go to a stadium and apologise to the nation for resorting to blatant lies and deceiving people," he said.
The BNP leader further said, "A path will be created for discussions with other parties if they [AL] apologise to people."
Fakhrul came up with the remarks while talking to reporters after visiting post-polls violence victim and Jashore Jubo Dal activist Faisal Ali at Dhaka Medical College Hospital.
Faisal was reportedly stabbed by ruling party activists on December 31, 2018 in Jashore.
Fakhrul alleged that the country has turned into a hospital as Awami League usurped power snatching people's voting rights.
"They're now finding out their opponents in every district, upazila and union and repressing them. They're also… creating anarchic situation in the country," he alleged.
Referring to his Monday's visit to Sylhet's Balaganj, Fakhrul said locals narrated how opposition leaders and activists were tortured and a Chhatra Dal activist was gunned down on election day. "They [AL activists] even opened fire on women there," he alleged.
He alleged that the ruling party is now initiating various "evil" tactics to justify the election at home and abroad. "It's very regrettable that they have no sense of shame. They're claiming a grand victory, but people are utterly frustrated as they couldn't exercise their voting rights."
The BNP leader said the ruling party is least bothered about people's pain and agony as it lost direction due to greed for power.