BNP trashes reports on Khaleda's release on parole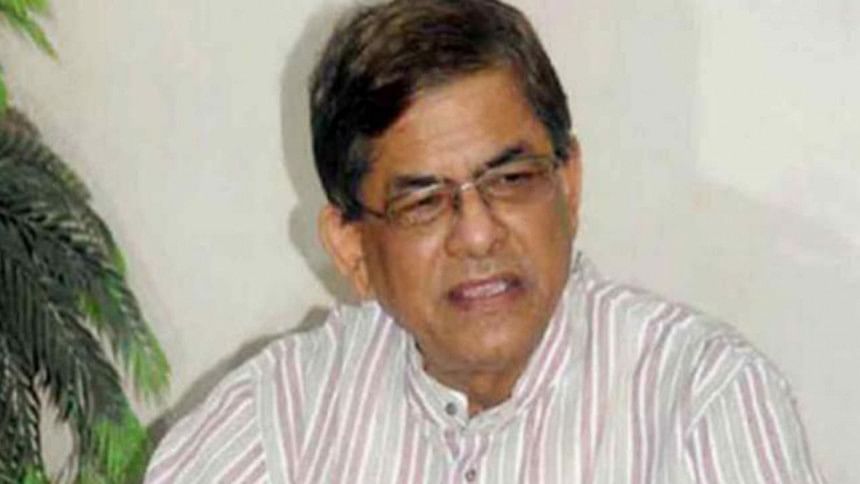 BNP Secretary General Mirza Fakhrul Islam Alamgir today termed 'baseless' different media reports on their chairperson Khaleda Zia's release on parole saying that there has been no decision yet in this regard.
"Several newspapers have been publishing news with different headlines on the issue (of parole) for a few days. I would like to clearly say Khaleda Zia didn't give any decision to go (abroad) for treatment on parole," he said.
The BNP leader came up with the remarks while speaking at the annual general meeting of a faction of Dhaka Union of Journalists (DUJ) at the Jatiya Press Club.
About their meeting with Khaleda at Bangabandhu Sheikh Mujib Medical University (BSMMU) on Sunday, he said as prisoners are allowed to meet their relatives and friends on the special occasions like New Year, they took the chance and met their chairperson. "But there's nothing to invent from such a meeting."
Reacting to a media report on Khaleda's release on parole for going to the UK, Fakhrul said an English newspaper ran news with specific date and day of their chairperson's release on parole. "It's very unfair."
"It's also regrettable that they (the English daily) contacted me for comment, and I said it's completely baseless and untrue. Even after that, they published it prominently. We urge all to refrain from exercising such yellow journalism and not to confuse people," he said.
The BNP secretary general also called upon journalists to talk to responsible BNP leaders before running any news on important issues relating to their party.
He also observed that social media platforms are now being used for the character assassination of people, including the politicians. "It's a social crisis, and the media people should think about it."
The BNP leader alleged that a ruling party-backed quarter is controlling the media in a planned way and working to build society as per the government's desire.
He said the media is being controlled in such a way by creating an appalling situation that many popular intellectuals now cannot join television talk shows. "Now, it has become difficult to provide authentic information."
Fakhrul said many journalists who tried to present accurate information lost their jobs after the national election. "A section of journalists is now in a good position, but not majority ones while many are jobless."
He called upon all to mobilise public support to change the current situation and protect press freedom and people's rights.
The BNP leader alleged that the law-and-order situation has badly deteriorated in the country as the current government has no accountability to people. "The law enforcers have taken a position against people."
Fakhrul also bemoaned that politics has now got polluted so badly that it is difficult for good people to survive in politics.