Sheikh Hasina's leadership is like magic: Quader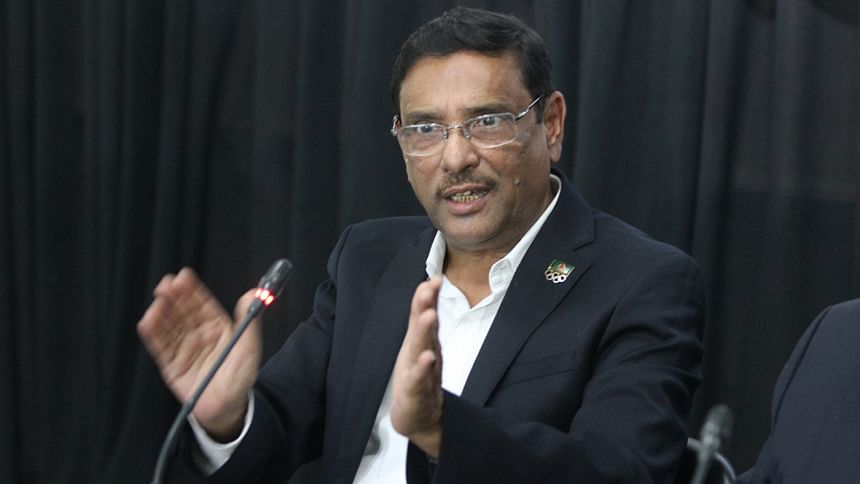 Road Transport and Bridges Minister and Awami League General Secretary Obaidul Quader today said the leadership of Prime Minister Sheikh Hasina is like a magic, narrating that her development approach puts BNP in trouble.
"The development approach of Sheikh Hasina put BNP in trouble and it could not get rid of this. That's why the party is making lobby with foreigners," he told a discussion at Institution of Engineers, Bangladesh (IEB) in the capital.
Dhaka City South Unit of Awami Jubo League arranged the discussion as part of its month-long programme to celebrate the birthday of Awami League President and Prime Minister Sheikh Hasina as the 'People's Empowerment Day'.
Jubo League chairman Mohammad Omar Faruque Chowdhury inaugurated the month-long programme.
Speaking as the chief guest, Quader said normally a political leader thinks about the next general election, but Sheikh Hasina thinks of the development of next generation.
"It is our duty to uphold the development and image of Prime Minister Sheikh Hasina among the people of the country. And Jubo League is doing so," he added.
The AL general secretary said Sheikh Hasina possesses an outstanding leadership, which is not found in other leaders, as she has affection for the country's 17 crore people.
About the crisis erupted in Jaitya Party, Quader said it is an internal matter of the party, while as per the rules of procedure the Speaker of the parliament will elect the leader of the opposition in the House.
Jubo League chairman Omar Faruque said the country is moving forward under the leadership of Prime Minister Sheikh Hasina, while its people have been enjoying the freedom of expression.
Marking the birthday of Sheikh Hasina, he said, Jubo League will hold rallies and exhibitions and distribute leaflets in the capital to present the development of the government.
Jubo League general secretary Harunur Rashid, its presidium members Mujibur Rahman Chowdhury, Abdus Sattar Masud and Ataur Rahman Ata, vice-presidents Sarwar Hossain and Anwar Iqbal, organising secretary Mizanur Rahman Bakul, president of Dhaka City South Jubo League Ismail Chowdhury Samrat and its acting general secretary Rezaul Karim Reza, among others, spoke on the occasion.