Many BNP leaders, activists eager to join AL: Quader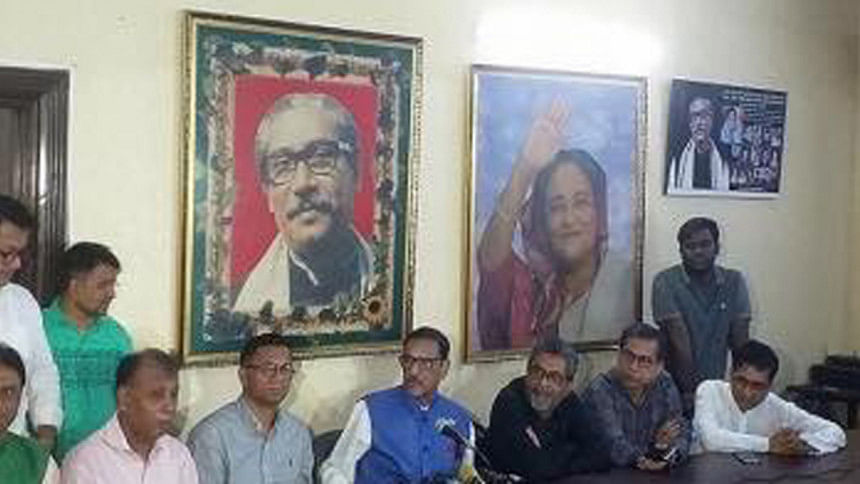 Many leaders and activists of opposition BNP are eagerly waiting to join the Awami League, the party's General Secretary Obaidul Quader said on Wednesday. 
"If Awami League President Sheikh Hasina gives green signal, a wave of BNP leaders and activists will come forward to join AL," Quader said.
Even BNP Secretary General Mirza Fakhrul Islam will not be able to prevent the move, he remarked.
Quader, also the minister for road Transport and Bridges, said this while addressing a press briefing at AL President's Dhanmondi political office this noon.   
Replying to a query on whether there is any possible surprises regarding politicians changing their political camps in the in coming days ahead of the election, Quader said, "Politicians changing their party banners is nothing new in the democratic countries. It is not a new scenario. Who is going for whose side- it's already happening ."
"Many are eagerly waiting to join Awami League. However, we are yet to get any clearance from our party chief in this regard."
Asked whether there is any possibility of BNP boycotting the upcoming elections, the AL general secretary said that his party is not thinking about any such possibility as it is looking forward to a participatory and competitive national election.
"Let there be competition in the polls. If there is no contest, there is no fun in the result in the election," he said.
Quader, however, said that BNP has not yet managed to come out of its negative political activities as it realised that it has no chance of winning the polls if held in a free and fair manner.
"BNP has proved that it hasn't yet come out of its negative political moves as they attacked the law enforcers in Nayapaltan after the announcement of the election schedule. People are fed-up with their negative political activities."
In reply to another query, Quader said that the Election Commission will be successful in holding a transparent, acceptable and credible election.
"BNP is making all these allegations without any reason and will keep doing so as long as it doesn't get any assurance of victory."