Quader battles for life
AL gen secy at BSMMU CCU
Awami League General Secretary Obaidul Quader is fighting for his life at the Bangabandhu Sheikh Mujib Medical University with blockages in three coronary arteries.
"His condition is critical," Prof Syed Ali Ahsan, chairman of cardiology of the hospital, told reporters around 5:45pm yesterday.
The 69-year-old road transport and bridges minister was admitted to the BSMMU around 7:30am after having breathing difficulties at daybreak. He has been kept at the Coronary Care Unit there.
BSMMU Vice Chancellor Prof Kanak Kanti Barua said Quader suffered a heart attack while undergoing treatment at the hospital.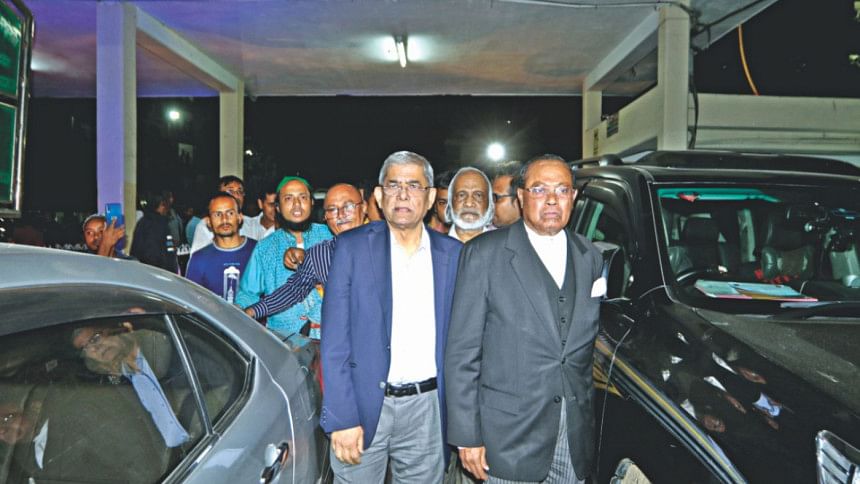 Two specialists from Singapore's Mount Elizabeth Hospital examined him after they had been flown in.
Quoting doctors, AL presidium member Faruk Khan told The Daily Star around 8:30pm that Quader's condition "seemed to have slightly improved".
President Abdul Hamid, Prime Minister Sheikh Hasina and Speaker Shirin Sharmin Chaudhury and many cabinet members and lawmakers visited him at the hospital.
He was taken to the Intensive Care Unit at first and then moved to CCU as his condition deteriorated, Prof Ahsan said.
Doctors found blockages in three of his arteries and Quader felt better for around two hours after one of the blockages was removed, Prof Ahsan said.
But his condition deteriorated again as his blood pressure fell sharply.  He had also uncontrolled diabetes and electrolyte imbalance.
When the PM visited him after 4:00pm, Quader opened his eyes partially.
During the president's visit a little later, Quader opened his eyes and could move his feet a bit.
There was a preparation to fly him to Singapore. But Prof Ahsan around 6:00pm told reporters that Quader was still in a critical condition although his condition improved a little.
Taking him abroad will depend on the arrangement of the hospital where he would be admitted to, said Prof Ahsan.
"Permission may be given to take him abroad only if there are skilled doctors and staffers and necessary arrangement in case of complexity on the way," he added.
After Quader was admitted to the BSMMU, a large number of AL leaders and activists went there.
His family members also went to hospital. A 19-member medical broad was formed for his treatment.