Science Lab bombing might be a test attack: Quader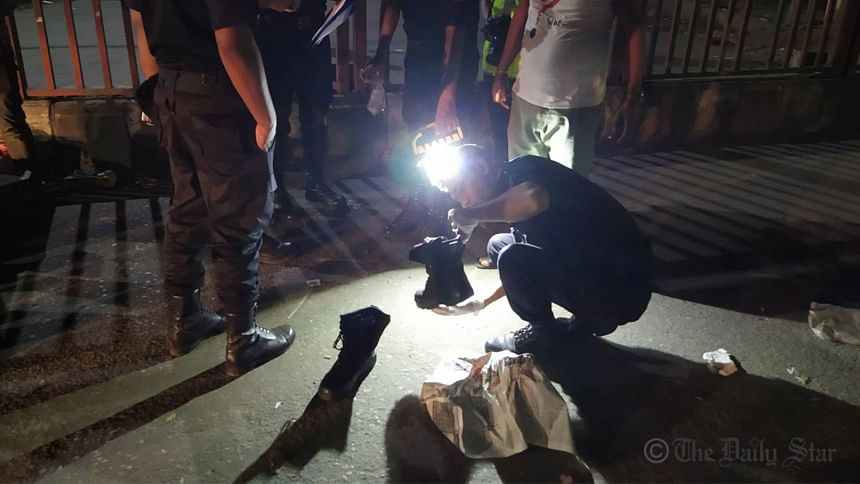 The bomb attack on police in Dhaka's Science Laboratory area might be a test case before carrying out any big attack in future, Road Transport and Bridges Minister Obaidul Quader said today.
Police are investigating the attack and they are on alert, the minister said while replying to a query about last night's bomb attack at Science Lab intersection.
The detectives are yet to find out those responsible for the attack, he also said.
"I have talked to the inspector general of police (IGP) and he confirmed that the bomb was hurled targeting the police, not the minister," he said.
It cannot be said that the ministers and bureaucrats would not come under attack in future, he added.
Regarding Islamic State's (IS) claim over the attack, Quader said that he cannot say anything about it, but it should be pondered over if some groups are trying to use the name of IS.
Two policemen, including a security detail of LGRD Minister Tazul Islam, were injured in the attack when the minister was passing through Dhaka's Science Laboratory area around 9:20 pm yesterday. The minister was unhurt in the attack.
Assistant Sub Inspector AB Shahabuddin had injuries to his legs while traffic constable Aminul Islam suffered splinter injuries to his right-hand fingers during the attack. They were at Dhaka Medical College Hospital and out of danger, said a doctor there.
On May 26, two people, including a female police officer, were injured after a bomb went off near a police pickup in the capital's Malibagh intersection.
In another incident, two traffic police constables and a community traffic policeman were injured in a blast in Gulistan on April 29.