Govt has no plan for early elections: Quader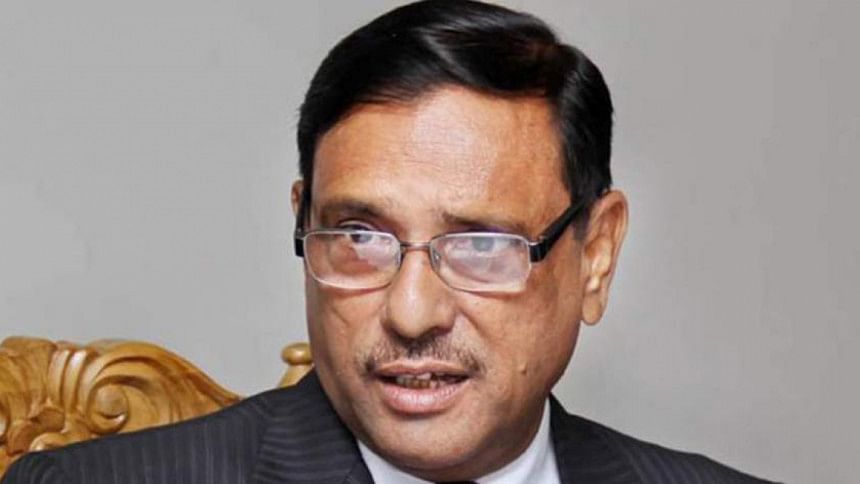 Road Transport and Bridges Minister Obaidul Quader today said there is no plan or possibility of early elections.
"I have already told that we are ready to take part in the polls whether it is held after one, three or six months later. But there is no plan or possibility of early elections," the minister told a press conference held at the ministry's conference room at the Secretariat in the city.
"Whenever the Elections Commission (EC) will hold the elections, we will be ready to take part in the polls. But we prefer that the polls would be held in December, the month of Victory," the Awami League general secretary said.
Quader, categorically, also said they began preparation much earlier and already has made a draft list of candidates in district and divisional levels.
Referring to Zia Orphanage Trust and Zia Charitable Trust graft cases against Khaleda Zia, the minister said the cases were not filed by the AL government. These were filed by the Anti-Corruption Commission (ACC) during the previous caretaker government's regime, he added.
"But if she gets convicted in the cases, they (BNP) will say that the government has interfered in the matter. However, if she is proved innocent, they will define the judiciary as independent," Quader said.
Criticising BNP's remarks over Dhaka North City Corporation (DNCC)
elections after the death of Annisul Huq, Quader said BNP may not ready for the elections, but the elections will be held in due time.
The mayoral post of the DNCC has already been declared vacant, the minister said, adding that the Election Commission will hold the by-polls within 90 days as per the electoral laws.
Speaking about AL's candidate in the DNCC by-polls, AL general secretary said, "We are not thinking about charming candidate but for winnable candidate". However, he was unwilling to comment further in this regard.
Condemning BNP's vandalism in the city on Tuesday, Quader said, "We are in doubt about BNP whether they are going back to the way of violence. I think they want to choose the way of violence as they failed to wage movement".