People won't accept unity with Aug 21 killers: Quader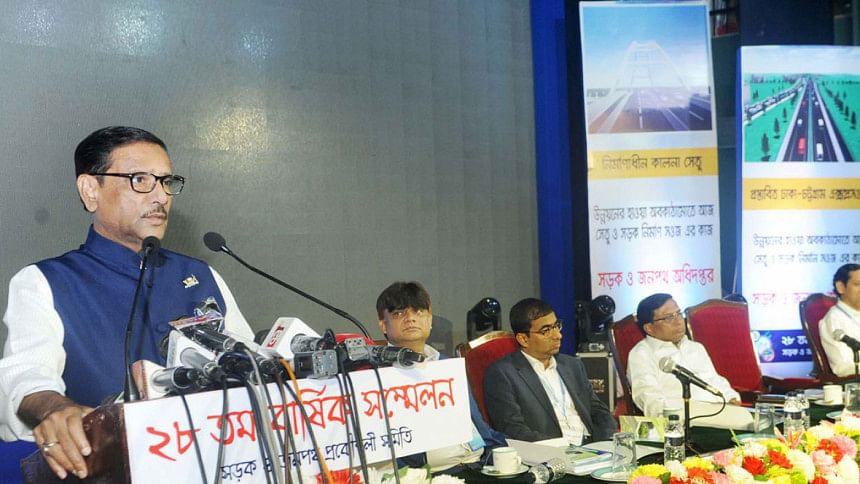 Road Transport and Bridges Minister Obaidul Quader today said the country's people would never accept any 'Jatiya Oikkya' (national unity) with the killers of August 21, 2004.
"Those talking about democracy, rule of law and ethics in every word will make unity with the killers of August 21…The people of the country would never trust and accept them," he said, speaking at a conference at the auditorium of Institution of Engineers' Bangladesh (IEB) in Dhaka.
Quader, also the general secretary of Awami League, inaugurated the 28th annual conference of Roads and Highways Engineers Association.
He said a court has given death sentence to 19 people, including former state minister for home Lutfozzaman Babar and life imprisonment to another 19, including ex-premier Khaleda Zia's fugitive son and BNP's current acting chairman Tarique Rahman on the August 21, 2004 grenade attack charges.
The ruling party general secretary said, "BNP is a barbaric political party. Therefore, the country men would not accept any national unity with them."
He said, "The court sentenced the killers and kingpins of August 21 grenade attack. BNP's acting chairman Tarique Rahman was awarded life imprisonment. How will Dr Kamal Hossain and former President Dr Badruddoza Chowdhury go for national unity process with the killers? I firmly believe that the people of the country would never accept them."
Referring a comment of BNP secretary general Mirza Fakhrul Islam Alamgir, Quader asked, "If BNP is not guilty of the attack, why did they destroy the evidences, help the attackers to flee, create obstacles on the investigation of FBI and Scotland Yard into the cases? And why did they stage 'Jaj Miah drama?"
Secretary of Road Transport and Bridges Ministry Nazrul Islam, Roads and Highways Department Chief Engineer Ibne Alam Ahsan, IEB President Md Abdus Sabur, association President Sabuj Uddin Khan and General Secretary Abul Kalam Azad, among others, addressed the inaugural function.