Hasina won't violate constitution: Quader
The minister was briefing media after dialogue with Oikyafront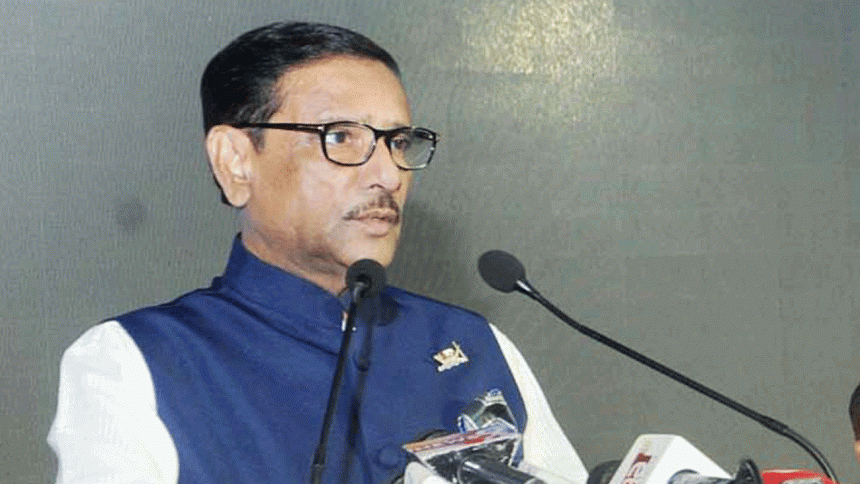 --No more dialogue, election-work will continue

--Govt will consider release of 'political prisoners'

--Awami League will accept some demands of Oikyafront
Prime Minister Sheikh Hasina will not violate constitution in holding the general elections, her party's General Secretary Obaidul Quader has said.
He was briefing reporters after holding a "positive" second round of dialogue with political opposition Jatiya Oikyafront at Gono Bhaban this afternoon.
Quader asserted, the election will be held under the present government. "There is no scope to go beyond the constitution. We've conveyed that clearly."
WILL KHALEDA BE FREED?
Quader has not made a clear statement on whether BNP Chairperson Khaleda Zia will be released from jail, but dropped subtle hints in this issue.
"We have no problem in accepting most of their demands,"Quader said on the note of Oikyafront's demands which prioritises the demand of Khaleda's release.
"If there is any political prisoner, we will consider their freedom. The law minister will be instructed in this regard," Quader said.
In reply to a concrete question regarding Khaleda, he said: "We have no problem if she can secure bail through the legal channel."
WHY AWAMI LEAGUE IS WALKING THIS PATH?
Awami League will not be dissolving the parliament before election because of what Quader said over concerns over "third force taking over power".
"If the parliament is dissolved, it might create a loophole for undemocratic forces to seep in and assume power like before in 1/11," Quader said.
"Our leader, Prime Minister Sheikh Hasina has assured that this election will be the most democratic election. She has asked them to trust her," he said.
"We will allow complete freedom of foreign observers, ensure level playing field in the root levels and consider deployment of army as striking force," he said.
WHAT IS THIS IMPASSE?
All the opposition parties and alliances have demanded for holding the general election under a nonpartisan government and dissolution of the parliament ahead of it.
However, ruling Awami League has repeatedly asserted that it will keep to the constitution – meaning that the election will be held under its government.
Apart from this major issue, there are several other major demands, like the release of BNP Chairperson Khaleda Zia from jail and use of electronic voting.
Also, the opposition parties have been accusing the Election Commission of subservience to the government and walking the path as instructed to it.
WHEN IS THE POLLS SCHEDULE?
Earlier on November 4, Election Commission announced that it will be announcing the complete election schedule on November 8.
The schedule will include the dates of collecting nomination, submitting nomination, scrutinising the nominations and withdrawal of nominations.
According to what is being said, the general election is likely to be held in December.
HOW IS THE DIALOGUE PROGRESSING?
The first round of dialogue, held after a letter of interest from the Oikyafront, was held on November 1. Oikyafront said they were not happy with it.
Today, a second round of talks with the ruling alliance, with Prime Minister Sheikh Hasina in the chair, was held in Gono Bhaban.
Meanwhile, Awami League has held talks with Jatiya Party and BikalpaDhara-led alliance Juktofront, Islamic Democratic Alliance and Left Democratic Alliance.