Rohingya crisis: Japan eager to play mediator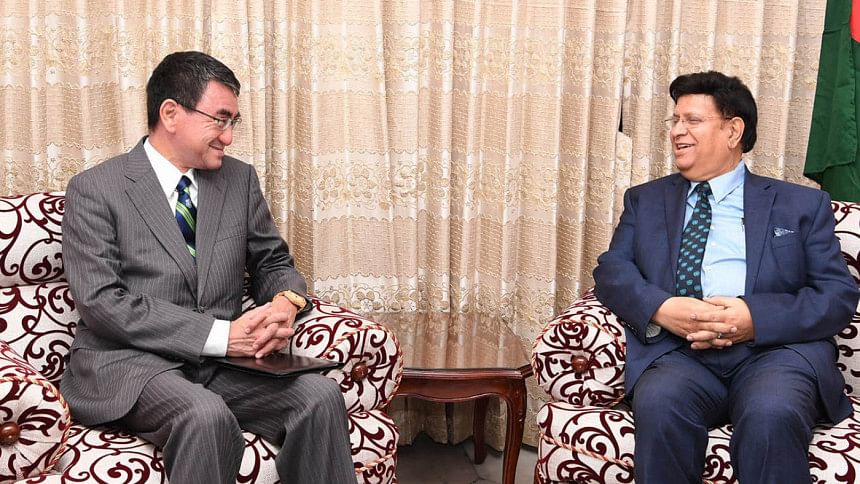 Japan has expressed its eagerness to actively perform a role of mediator between Bangladesh and Myanmar to ensure immediate smooth repatriation of Rohingya people to their place of origin in Myanmar.
Foreign Minister AK Abdul Momen made the announcement at a press conference after holding a meeting with visiting Japanese Foreign Minister Taro Kono at a state guest house in Dhaka this evening.
"We will hold talks with Bangladesh and Myanmar in Tokyo immediately to solve the Rohingya crisis," Momen told a press conference at the state guest house quoting the Japanese foreign minister.
There is a large scale of Japanese investments in Bangladesh and Myanmar for development projects and the progress may be hampered if the Rohingya repatriation process is prolonged, Momen said.
Earlier in the day the Japanese foreign minister visited Rohingya camp in Kutupalong of Cox's Bazar.
During the visit, Taro Kono said the Japanese government will remain beside Bangladesh to solve the crisis.
"We will help the Bangladesh government uninterruptedly to solve the crisis," he said.
He also talked to many Rohingya people there and inquired their problems to get firsthand report over the overall situation.
One Rohingya youth Enamul Hasan, also a teacher at the camp, expressed eagerness to the Japanese foreign minister to go back to his own country saying that he does not want to stay in Bangladesh for a long time.
"Citizenship of our own country is our one-point demand," he added.
The Japanese foreign minister arrived in Dhaka last night on a three-day visit and he is scheduled to leave Dhaka tomorrow.
Apart from the Rohingya issue, other issues related to further strengthening Bangladesh-Japan ties also took place during the meeting between the two foreign ministers.
It is expected that Kono's Rohingya-focused visit will help expedite the ongoing efforts of commencing safe repatriation of Rohingyas to Myanmar, a Bangladesh foreign ministry official said.
Some 750,000 Rohingyas fled atrocities in Myanmar's Rakhine State after August 25, 2017. In clashes between the Myanmar army and the Arakan Army since early this year, thousands more were displaced.