Bangladesh needs political engagement for Rohingya repatriation
Experts say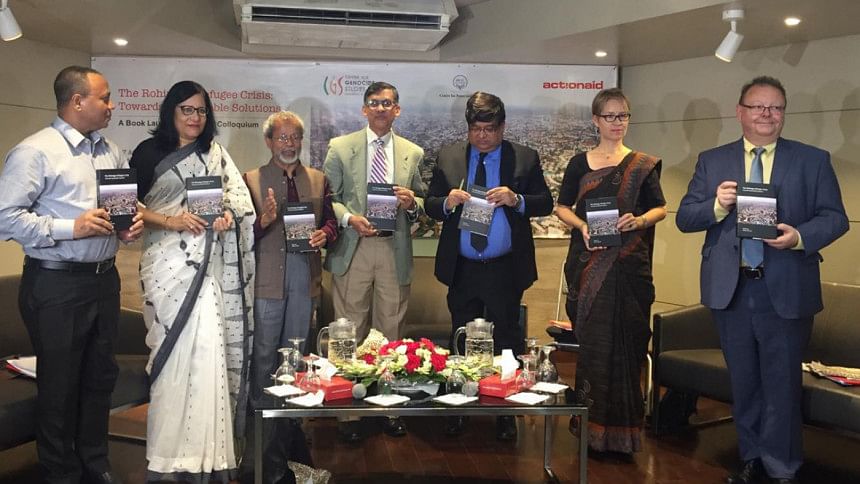 Bangladesh needs to have deeper political engagement with Myanmar as well as allies of both the countries – China, Japan and India – for sustainable solution to Rohingya crisis, experts and diplomats said today.
Apart from Bangladesh government, national and international civil society, non-government organisations (NGOs) and human rights organisations also need to keep up pressure on Myanmar for a sustainable repatriation of the Rohingyas, they said.
The observations came at an event titled "The Rohingya Refugee Crisis: Towards Sustainable Solutions – a book launch and policy colloquium" in capital Dhaka's BRAC Centre Inn today.
ActionAid Bangladesh, the Centre for Peace and Justice and the Centre for Genocide Studies jointly organised it, two days after the second anniversary of Rohingya influx from Myanmar to Bangladesh following a brutal military crackdown against them in Rakhine state.
While addressing the event, Prof Imtiaz Ahmed, director of Centre for Genocide Studies at Dhaka University, said that Bangladesh needs to get engaged with three countries of Myanmar -- China, Japan and India -- in a much more creative way to find out a sustainable solution to the Rohingya crisis.
"Myanmar thinks these three countries are in its pocket," said Prof Imtiaz Ahmed during book launch programme.
He said a sustainable solution to the Rohingya crisis and their safe return to Rakhine state is possible if Myanmar does two things -- amendments to the existing laws and creating a safe zone in Rakhine with deployment of security personnel from China, Japan and India along with the presence of Myanmar security forces.