No atrocity against religious minorities in Bangabandhu regime: Amit Shah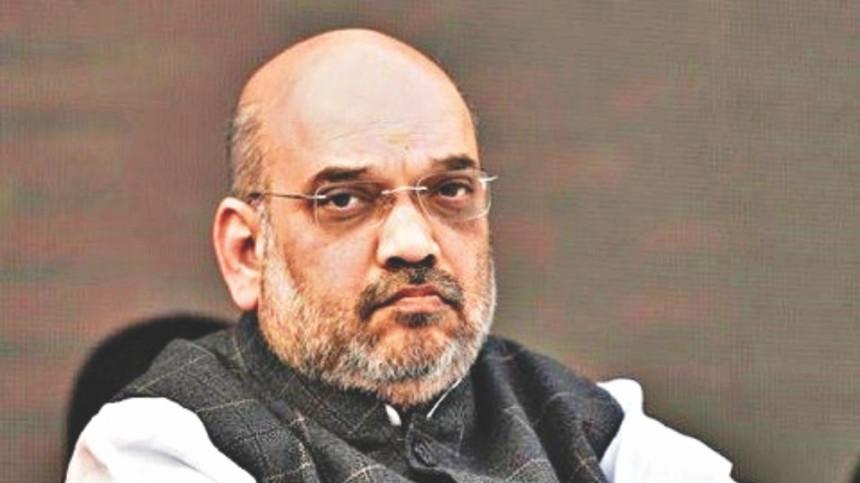 Indian Home Minister Amit Shah has expressed his gratitude that not a single incident of atrocities on religious minorities in Bangladesh took place as long as Bangabandhu Sheikh Mujibur Rahman was alive.

In a long reply to the 12-hour debate on the Citizenship Amendment Bill, which was passed in the Lok Sabha by a huge margin of 311-80 votes at the stroke of midnight last night, Shah attacked the BNP rule under Khaleda Zia and listed a a number of instances of gangrape of Hindu women and attacks on Hindu houses and temples in October, 2001.

Without naming Prime Minister Sheikh Hasina government, he also commended it for ensuring the safety and security of religious minorities in Bangladesh and said only "a very few" incidents of atrocities on them had taken place, reports our New Delhi correspondent.

"I want to use the floor of this House today to record my gratitude to Bangabandhu Sheikh Mujibur Rahman that not a single instance of atrocity on religious minorities in Bangladesh took place as long as Bangabandhu was alive," the Home Minister said.

He said the religious minorities were well protected under the signing of the India-Bangladesh Peace and Friendship Treaty by the then Prime Ministers Indira Gandhi and Sheikh Mujibur Rahman in Dhaka 1972 and the spirit of the agreement was maintained by Bangladesh till his assassination in 1975.  

Shah singled out the BNP regime led by Khaleda Zia by naming both to catalogue the incidents of atrocities against Hindus in Bangladesh in 2001.

He said Mahatma Gandhi had visited Noakhali, one the sites of worst-Partition riots, but it was on his birthday on October 2, 2001 that 100 Hindus, whose age ranged from 8 to 70, were raped in Charbhasan upazilla and in Bhola 200 minority women were gangraped.

In October 1990, 300 houses belonging to Hindus were set on fire at Kaivailyadham and one thousand Hindu families had come under attack in Lalmohan upazilla, Shah said adding many temples were also damaged.   

Shah also pointed how the religious minority population has come down from 22 per cent in 1947 to 7 per cent in 2011.

Quoting reports, the Home Minister said it was clear that religious minorities had "found it impossible" to undertake their religious activities in Bangladesh.   

The marathon heated and polarizing debate on the Bill was marked by frequent sharp exchanges between the treasury and opposition benches.

According to the Citizenship (Amendment) Bill, 2019, members of Hindu, Sikh, Buddhist, Jain, Parsi and Christian communities, who have come from Bangladesh, Pakistan and Afghanistan, till December 31, 2014, facing religious persecution in those countries, will not be treated as illegal immigrants but given Indian citizenship.

The Bill, which has been opposed by the Congress, Trinamool Congress and other opposition parties, was introduced after a division of votes for which 293 MPs voted in favour and 82 against it.

Shah asserted "Will never accept Rohingya refugees as citizens" and agreed with the suggestion that "India doesn't need refugee policy, has enough laws for protection of refugees."

"Rohingyas come through Bangladesh. Rohingyas will never be accepted. I am saying that again)," he said.

Shah said the Citizenship Amendment Bill was necessitated by the division of India on the basis of religion and it was "Pandit Jawaharlal Nehru who was the first to give citizenship based on the basis of religion."

The Home Minister said the Nehru-Liaquat Ali pact in 1950 failed to take care of religious minorities in Pakistan and it did not stand the test of time and reality.

Responding to opposition parties' allegations that the CAB discriminates on religious lines, Shah said "In 1991, the Hindu population (in India) was 84% and in 2011, it was 79%. In 1991, the Muslim population was 9.8% and today it's 14.23%.

"We have done no discrimination on basis of religion & in future as well, there will be no discrimination based on religion". PM Modi hailed the passage of the bill in the Lower House of the Parliament.

Shah also said the minority population in Pakistan has decreased from 23 per cent in 1947 to3.7 per cent in 2011.

He said the Citizenship Bill will give relief and constitutional respect to those who have been living a "painful life" after facing persecution in neighbouring countries.

Shah rejected the suggestions that the Bill is violative of Article 14 of the Constitution, which guarantees equality for everyone, as it aims to give citizenship to persecuted people only.