Khaleda spends quality time with relatives at BSMMU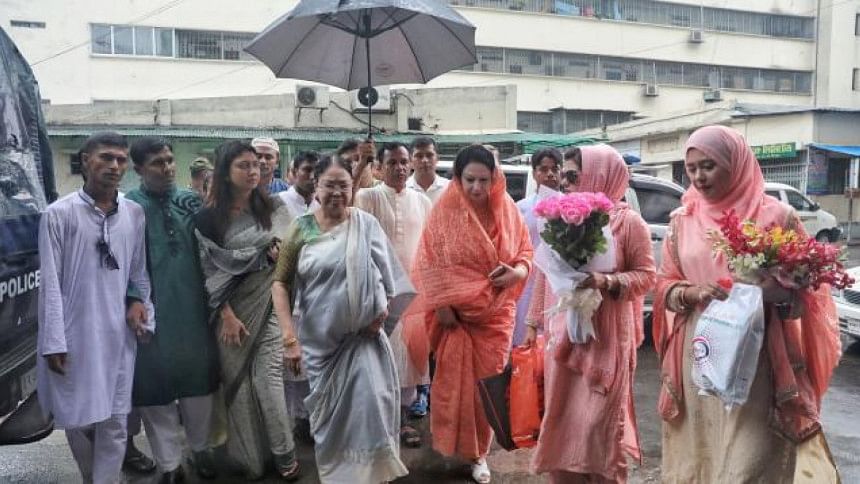 BNP Chairperson Khaleda Zia spent around two hours with her relatives and took food they cooked for her on the Eid-ul-Fitr day.
Seven relatives of the BNP chief went to meet her at cabin No-621 of Bangabandhu Sheikh Mujib Medical University (BSMMU) around 1:00pm with some cooked food, new clothes and flowers, Khaleda's media wing member Shamsuddin Didar told UNB.
However, BNP secretary general Mirza Fakhrul Islam Alamgir alleged that the prison authorities have violated the jail code by not allowing their party senior leaders to meet Khaleda on the Eid day.
Khaleda Zia was sent to jail on February 8 last year after she was found guilty of corruption in a case. She has been receiving treatment at the BSMMU for various physical problems since April 1 last. 
The relatives who met the BNP chief are her sister Selina Islam, Selina's husband Prof Rafiqul Islam, sister-in-law Nasrin Iskandar (her late brother Sayeed Iskander's wife), nephew Ovik Iskandar (brother Shamim Iskandar's son), granddaughter Tamanna Hauqe (her nephew Saiful Islam Duke's daughter), Tarique Rahman's sister-in-law Sahina Zaman Bindu and Arafat Rahman Koko's mother-in-law Mukrema Khatun.
Didar said the relatives took polao, chicken roast, mutton, different fish curries, vermicelli cooked with milk, some sweetmeats, milk and fruits for Khaleda Zia.
He said they came out of Khaleda's cabin around 2:50pm after meeting her and passing good time with her.
Wishing anonymity, one of the relatives who met Khaleda, said they wished the BNP chief Eid Mubarak by presenting her a bouquet and roses. The relative also said they got emotional as they met the ailing BNP chief on the Eid day in jail. "She (Khaleda) took the food we took for her."
Earlier in the day, the BNP secretary general said their party leaders and activists are passing the Eid day with heavy hearts as their chairperson has been kept in jail. 
Talking to reporters after paying homage to BNP founder Ziaur Rahman at Sher-e-Bangla Nagar, he also said though BNP's senior leaders sought permission from the jail authorities to meet Khaleda on the Eid day, they were not allowed to do so.
He said the jail authorities only gave permission to seven family members to meet Khaleda Zia. "The authorities have violated the jail code by not allowing us to meet our chairperson on such a special day."
With the latest one, Khaleda spent three consecutive Eids in jail. She had been in Old Dhaka Central Jail during two other Eid festivals last year. The BNP chief earlier celebrated Eid twice in jail following her arrest by the army-backed caretaker government after the 1/11 political changeover in 2007.