For a colourful home in Eid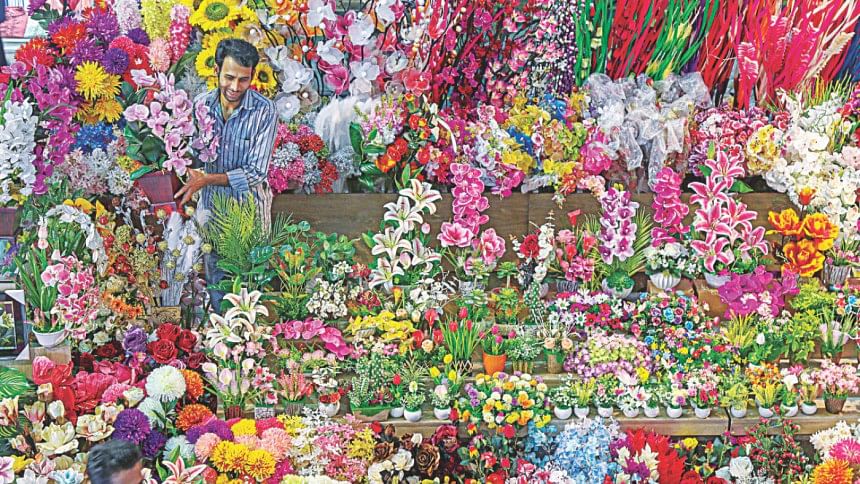 With Eid-ul-Fitr just two days away, the markets in Chattogram are abuzz with customers. This year, however, customers were not busy buying only clothes, but many were seen focusing on home decorative items -- particularly artificial flowers, plants and vases.
During a visit to the city's market places yesterday, this correspondent saw customers thronging the stalls of such items.
One shopper at these stalls said the quality of these show-pieces were good. All she had to do was now see which would match the interior of her house. 
Farjana Islam, a shopper in Afmi Plaza at the city's Prabartak intersection, was stroking her fingers on the petals of an artificial orange Gerbera.
"It is nice to give your house a new look during Eid. Besides, we can hardly manage any time for buying these [home decorative items] throughout the year," she told The Daily Star.
Different sizes and colours of artificial Gerberas, Dahlias, Tulips, Roses, Marmalades, Merlots, Peach blossoms, Cherry blossoms, along with many other kinds of flowers and decorative plants are found in these stalls.
The prices range from Tk 300 to more than Tk 1,000.
Rafiqul Haque, a vendor at one of the stalls, said their business reaches its peak on the eve of Eid.
"People generally rent artificial flowers for different events from decoration companies. Very few buy these from our stalls. But during this occasion, we see some fortune," said Rafiqul.
Like Afmi Plaza, the fourth floor of Lucky Plaza at Agrabad is also full of such customers. The place is filled with stalls selling such decorative items.
Mosharraf Hossain, a seller at Lucky Plaza, said, "In the previous years, our sales would remain the same all year long. But recently, Eid-shoppers seem to prefer buying such items. It is definitely a good sign for our business."