Eid journeys hassle free, largely
People heading north on rail faced delays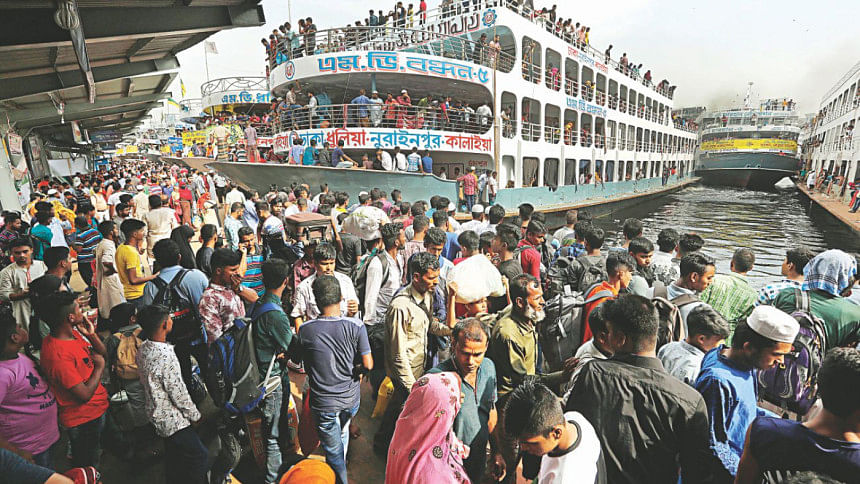 Holidaymakers' journey on the highways and waterways have been relatively hassle-free, except those heading to the northern districts on trains.
Unlike previous years, long-haul buses left the terminals on time and faced no major tailback, thanks to better road conditions, transport operators said.
Launch services at the capital's Sadarghat were suspended for two hours due to yesterday morning's stormy weather.
The rush to village homes will reach its peak after offices and garment factories close for the Eid vacation today, transport operators said.
Visiting Dhaka-Chattogram highway yesterday, Road Transport and Bridges Minister Obaidul Quader said people were having the most comfortable and hassle-free Eid journey ever.
For the third consecutive day, holidaymakers going to the northern districts were subjected to long delays at Kamalapur Railway Station yesterday, as at least five trains were behind schedule by 1-5 hours.
Nilsagar Express left for Nilphamari around 12:50pm, almost five hours behind its schedule. The train ran three-and-a-half-hour behind its schedule on Saturday.
"We reached the station around 7:00am from Mirpur. My child is suffering," private employee Shamim Rahman said pointing to his three-year-old daughter.
Rajshahi-bound Dhumketu Express ran three-and-a-half hour behind the schedule and Khulna-bound Sundarbans Express an hour and 40 minutes.
Besides, Chapainawabganj-bound Rajshahi Express was scheduled to leave the station at 12:20pm, but it did not leave until 2:30pm.
Rajshahi-bound Silkcity Express was also delayed by 45 minutes.
These trains, except Dhumketu, were also delayed on Saturday.
Kamalapur Station Manager Aminul Hoque said people taking longer to embark and disembark were causing the delay.
He added that 55 trains, including three special ones added to cope with the rush, were scheduled to leave the station yesterday.
"We are trying to our best to… make the trains ready to leave for their destinations within 30 minutes after they reach the station," he said.
SMOOTH JOURNEY ON HIGHWAYS AND WATERWAYS
Most buses left Gabtoli bus terminal on time. Only a few buses were delayed by about half-an-hour in the morning, operators said.
Several transport workers claimed there were fewer passengers than they had expected.
"We just canceled two trips due to passenger shortage," said Alamgir, manager of Subarna Paribahan counter.
However, ferry operations on Paturia-Dauladia and Shimulia-Khathalbari routes that link Dhaka with south-eastern districts were suspended for nearly two hours due to stormy weather.
Bangladesh Bus Truck Owners Association Chairman Romesh Chandra Ghosh said no major tailback was reported at any highway.
Although the three-day public holiday begins tomorrow, a large number of government and non-government employees have been leaving Dhaka since Thursday, taking leave for the Monday before the Eid and securing a nine-day holiday at a stretch.
Meanwhile, operation of all types of vessels from Dhaka's Sadarghat to 43 destinations in the southern districts began around 12:30pm due to unfavourable weather in the morning.
Kazi Wakil Nawaz, secretary of Bangladesh Inland Water Transport Authority, said the two-hour suspension could not make much impact.