Verdict in Aug 21 Cases: BNP reacts to observations
It's similar to AL's political speech, says Fakhrul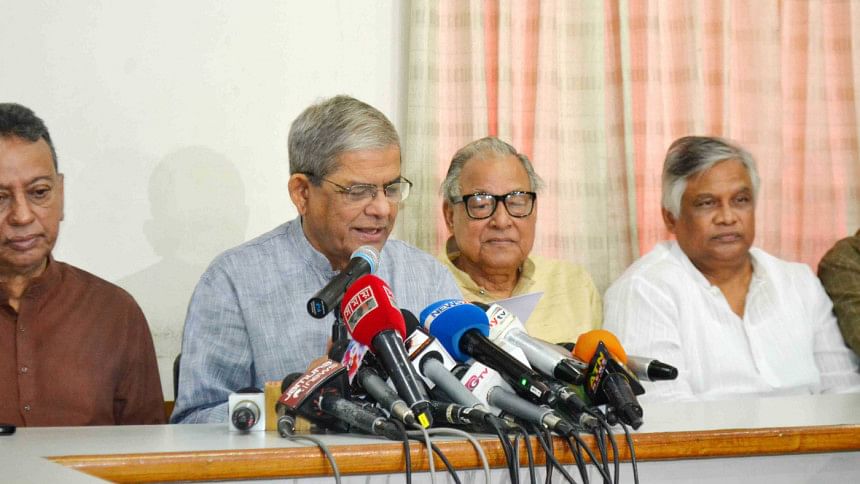 Court's observations in the August 21 grenade attack case verdicts "exactly reflect the ruling Awami League's political speeches", BNP Secretary General Mirza Fakhrul Islam Alamgir said yesterday.
Different newspapers on Thursday published reports on the court's observations in the judgments in the grenade attack cases, saying that the attack was carried out with the help of the then state machineries, he said.
"Like the countrymen, we have been stunned by such news," Fakhrul said while addressing a press conference at the party's Nayapaltan central office.
A Dhaka court on Wednesday found all the accused, including BNP Senior Vice Chairman Tarique Rahman and former state minister for home Lutfozzaman Babar, guilty in the two cases filed over the grenade attack on an AL rally on Bangabandhu Avenue in the capital on August 21, 2004.
The convicts were handed down various punishments for the bombing that killed 24 people and injured scores.
In its observations, the court said the defeated forces of 1971 attempted to diminish the spirit of the Liberation War and halt development of the newly independent country by killing Bangabandhu Sheikh Mujibur Rahman and his family members on August 15, 1975.
Following Bangabandhu's assassination, four national leaders were murdered inside a prison through a conspiracy. But the conspiracy did not stop; it rather continued.
Later, an evil attempt was made on August 21, 2004, to turn the AL into a leaderless party, it said.
Citing a court observation, Fakhrul said the BNP was not born in 1975. Besides, no BNP men were found accused in connection with the assassination of the four national leaders inside a prison and no BNP men were implicated in the killing incidents. 
"In this context, how does the court come up with such observations pointing the finger at the BNP for all these gruesome incidents?" the BNP leader asked.
Referring to the court's observation over the ruling party's attitude towards the opposition, Fakhrul said the AL's behaviour towards its political opposition was the complete opposite of the court's observation.
"We expect that the Awami League will comply with the court's observation in this regard."
Fakhrul said the court, in an observation, mentioned the killings of former finance minister Shah AMS Kibria and AL lawmaker Ahsanullah Master, but did not say anything about many BNP's missing leaders, including M Ilias Ali and councillor Chowdhury Alam.
Apart from this, the court did not say anything in its observation about the oppressive acts that had been going on across the country for the last 10 years, he said.
"The observations have made the verdict questionable as the court did not say anything about the ongoing abductions, disappearances and fictitious cases being lodged against BNP men," Fakhrul added.