Amendment to Hindu inheritance law a demand of time: Anisul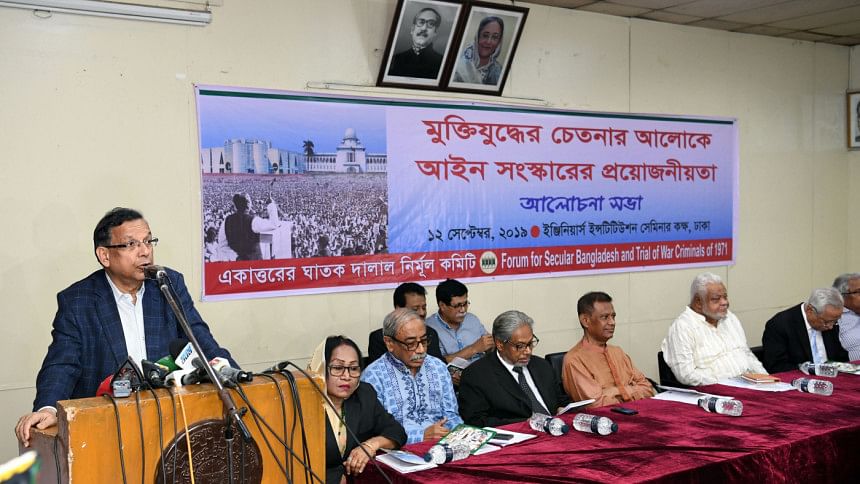 Law Minister Anisul Huq today said bringing the amendment to the Hindu inheritance law in order to ensure the rights of women is a demand of time.
The government is ready to provide all cooperation to this effect if the Hindu community comes forward with this issue, he said.
He said this while speaking as chief guest to a meeting on "necessity of reforming the law in light of spirit of the Liberation War" organised by Ekatturer Ghatak Dalal Nirmul Committee (EGDNC) at Institution of Engineers, Bangladesh in the capital.
The law minister said it is the responsibility of people of majority community is to ensure the rights of the minority community.
"We would not talk about the Hindu inheritance law if the women would not be deprived of their rights," he said.
Anisul Huq said Prime Minister Sheikh Hasina wants to go back to the spirit of the 1971 Liberation War and to ensure the four principles of the 1972 constitution in order to build the country of Sonar Bangla, as a dream of Bangabandhu Sheikh Mujibur Rahman.
The law minister also said the government is working to bring reforms in the Penal Code and evidence law and examining the witness protection law which was sent by the Bangladesh Law Commission.
Justice Shamsul Huda presided over the meeting where Justice AHM Shamsuddin Choudhury Manik, Attorney General Mahbubey Alam, Shariar Kabir, noted writer and journalist and president of Ekatturer Ghatak Dalal Nirmul Committee, and Bangladesh Hindu-Bouddha-Christian Oikya Parishad leader Rana Dasgupta, also spoke.