Proper service if sub-registrars work with benevolent mindset: Anisul Huq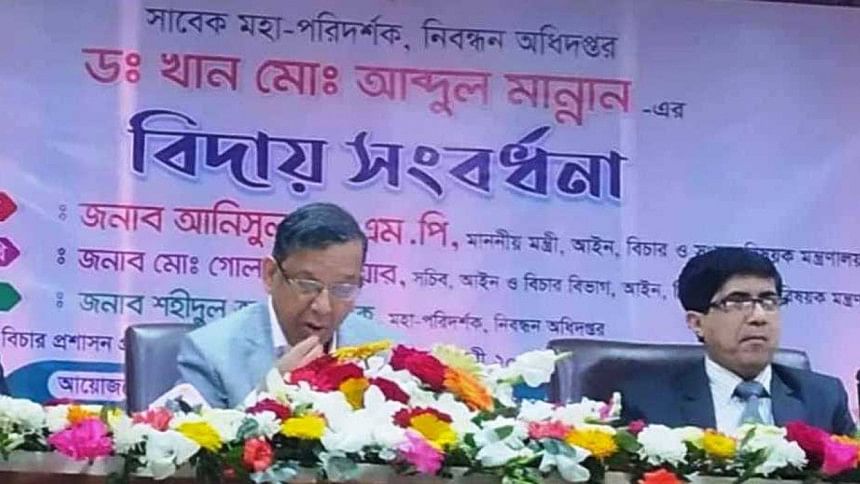 Law Minister Anisul Huq today said the image crisis of the sub-registrars will be reduced if they properly provide services to the people without harassing them.
"If all the officials and employees of the directorate of registration work with a benevolent mindset, people will get real service and the dignity of the directorate will increase," he said.
The law minister came up with the observation while speaking as chief guest at a meeting organised in the Judicial Administration Training Institute (JATI) to accord a farewell to outgoing Inspector General of Registration Khan Md Abdul Mannan.
Minister Anisul said the department of registration has been upgraded to a directorate to "increase its dignity".
"Crisis of Balam Books, narrow register books, has been resolved; dues of Nakal Nabish [copyists] have been paid; vacant posts of sub registrars have been filled and they have been provided training at home and abroad. Now is the time for them to serve the people," he said.
Law Secretary Md Golam Sarwar asked the sub registrars and district registrars to discharge their duties from 9am to 5pm on every working day and not to vacate their workplaces without taking leave.
Newly-appointed Inspector General of Registration Shahidul Alam Jhinuk presided over the meeting where law ministry's Joint Secretary Bikash Kumar, among others, spoke.