4 candidates go on hunger strike for fresh Ducsu polls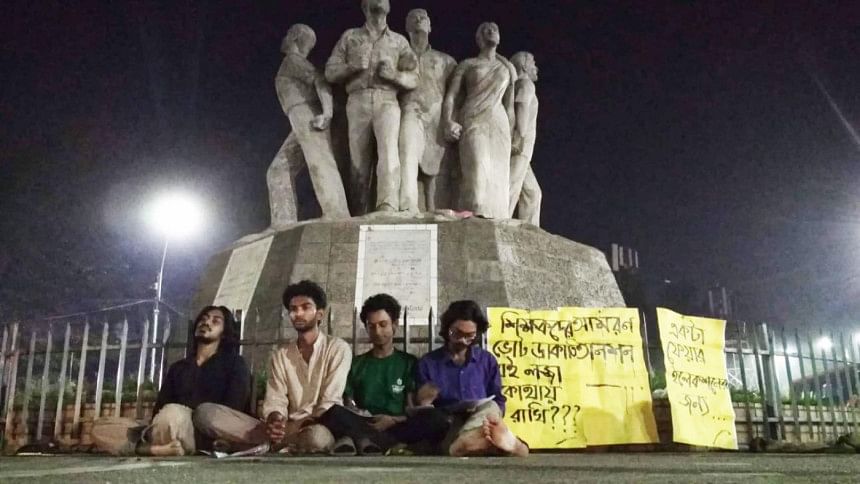 Terming yesterday's Ducsu election as nontransparent, four candidates of the opposition panel today began a fast unto death demanding fresh election to the Dhaka University students' union.
The four independent candidates started their hunger strike at the Raju Sculpture on the university campus around 5 :00pm to press home their demand.
Of them, Tuohid Tanjim took part in the election as transport affairs secretary while Md Moeenuddin as cultural affair secretary from Haji Mohammad Mohsin Hall, Soab Mahmud as literature affair secretary from Dr Mohammad Shahidullah Hall and Aninda Mandal as member from Jagannath Hall unions.
"We placed several recommendations the university authority to hold the Ducsu election in a free, fair and transparent manner. But the authority held the election ignoring all of our recommendations whimsically," the four candidates said equivocally.
"We will continue our fast until our death if the university authority does not meet with our demand," the also expressed their determination.
Meanwhile, newly elected Ducsu VP Nurul Haque Nur this evening once again demanded a fresh election to the Dhaka University central students' boy bringing allegations of vote rigging and ballot stuffing.
"I boycotted the election yesterday demanding a fresh election, as the incident of vote rigging and ballot stuffing took place at many halls including Kuwait Maitree and Rokeya. I am still rigid on this demand," Nur said.
Claiming that the entire election process to the Dhaka University Central Students' Union (Ducsu) was faulty, Nur said his panel won two posts --VP and social welfare secretary -- thought the election was held in massive irregularities.
Meanwhile, a group of female students brought out a procession tonight on the Ruqayyah Hall premises protesting the polls and demanded for holding a fresh polls.