Nation stunned over Khaleda's bail rejection: Fakhrul
BNP to stage nationwide demo Sunday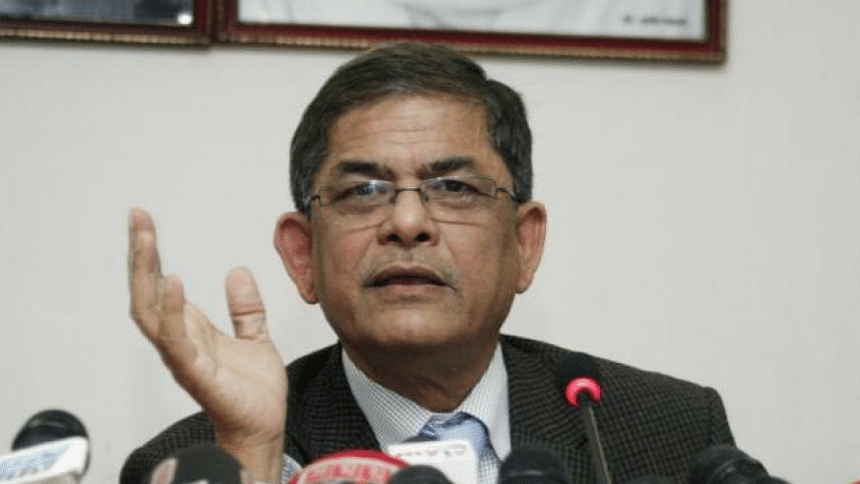 BNP Secretary General Mirza Fakhrul Islam Alamgir today said that the entire nation was stunned over the Supreme Court's judgement that rejected its Chairperson Khaleda Zia's bail prayer in the Zia Charitable Trust corruption case.
"We are disappointed and aggrieved over the rejection of the bail petition of Khaleda Zia. The entire nation was stunned as well," Fakhrul came up with the remarks while talking to reporters after a meeting at the party chief Khaleda Zia's Gulshan office in Dhaka this evening.
People have expected that their leader (Khaleda) would get justice from the court but she was unfortunately denied by the court, the BNP leader said.
Nationwide demo Sunday   
As part of the programme to free Khaleda Zia from jail, BNP will stage a demonstration and bring out processions across the country to press home their demand.
Leaders and activists of the party will hold rally and bring out processions at thana-level headquarters across Dhaka on the day, Fakhrul said.      
BNP will also come up with next course of programme immediately to ensure release of Khaleda Zia from jail, the party secretary general said.
"We strongly believe that the people with their enthusiastic participation in the protest programme would force the government to cancel result of the December 30 national election and to hold a fresh election under a nonparty and neutral government and election commission," he said.
Meanwhile, Awami League General Secretary Obaidul Quader said the government has nothing to do with Khaleda Zia's corruption case.
"The judiciary is enjoying full freedom under Prime Minister Sheikh Hasina's rule. The case against Khaleda Zia is a corruption case. So, there's nothing to do by the government with it," Quader, also road, transport and bridges minister, told journalists while speaking at the triennial council of Kurigram district Awami League in Kurigram.