Gatco Graft Case: Khaleda skips hearing for sickness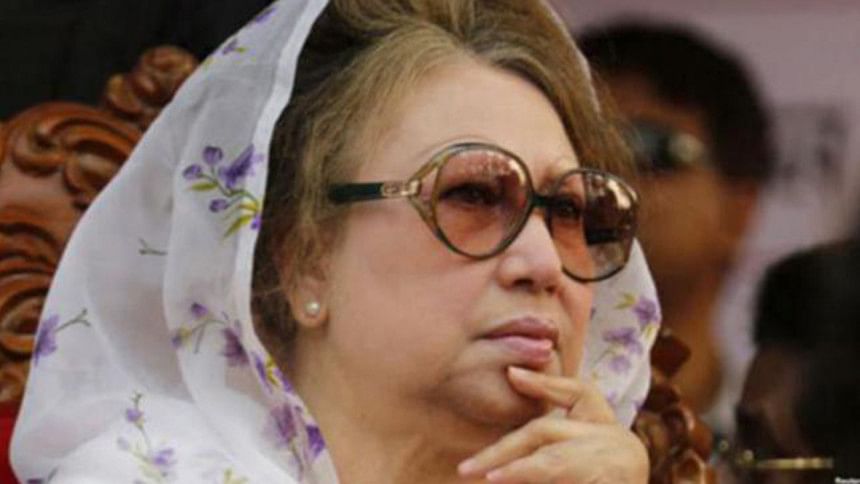 Despite facing a production warrant, BNP Chairperson Khaleda Zia did not appear before court during the hearing of Gatco graft case yesterday as she developed a boil on her leg.
Judge Abu Syed Diljar Hossain of the Special Judge Court-3 of Dhaka set the next hearing date on January 24.
All the accused must appear before the court on that day, the judge said during yesterday's hearing.
Khaleda's lawyer Masud Ahmed Talukder told the court that the jail authorities could not produce Khaleda before the court because of her sickness.
There was no scope for the hearing on charge framing as the accused was absent in the court, Masud said.
The other defence lawyers echoed his remarks in the court.
On the other hand, Anti-Corruption Commission's Public Prosecutor Mosharraf Hossain Kajol told journalists that they were ready for the hearing.
"Seeing Khaleda's delay in appearance, I called the jail authorities over phone. They informed me that Khaleda woke up late and was not ready for going to the court. Then I talked to the doctor about Khaleda's health over phone. The doctor informed me that there is a boil on Khaleda's leg," Kajol added.
BNP leader AKM Mosharraf Hossain, another accused in the case, did not appear before the court also because of sickness. A time petition was filed with the court for him by his lawyer.
Fifteen accused, including BNP leaders Khondaker Mosharraf Hossain and Amir Khasru Mahmud Chowdhury, were present in the court.
The ACC filed the case with Tejgaon Police Station on September 2, 2007 against Khaleda, Galib Tanveer and several others on charges of misappropriating Tk 1,000 crore while dealing with Global Agro Trade (Pvt) Company Ltd (Gatco).