Khaleda in politics: Confusion as ministers differ in opinions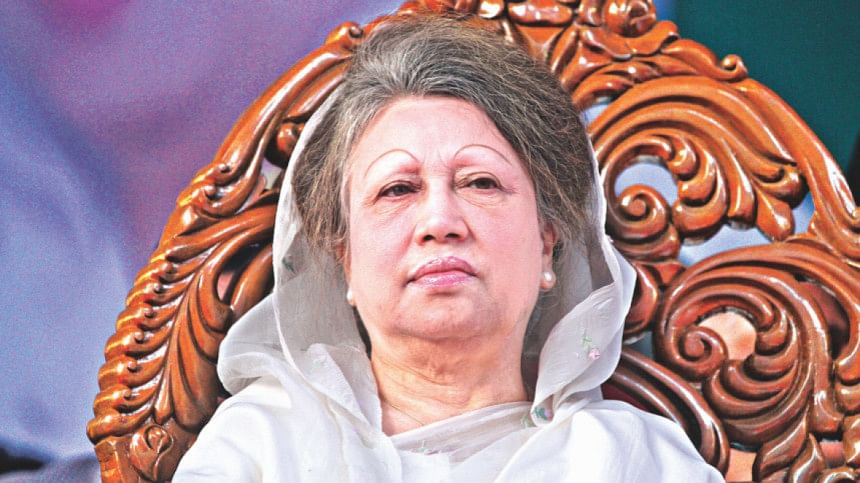 With their conflicting remarks, four ministers have caused confusion about whether BNP Chairperson Khaleda Zia can engage in politics.
Law Minister Anisul Huq began it all on Sunday when he said there was no legal bar to Khaleda getting involved in politics again but wondered whether her poor health would even allow her to do so.
Yesterday, he again said that even though there is no bar to Khaleda engaging in politics, people think she practically cannot do so as she is sick.
She, however, cannot take part in the election as she is convicted, he reiterated.
"You will have to understand what the real situation is. It has been stated in the application submitted by her brother for her release from jail that she was seriously ill and her life would be in jeopardy if she was not given better treatment," the law minister said.
The former prime minister was convicted and imprisoned in a corruption case in 2018. She was released in March 2020 with an executive order and on condition that she would not leave the country and must receive medical treatment in the country.
Agriculture Minister and AL Presidium Member Abdur Razzaque on Wednesday echoed the law minister and said Khaleda could run her party and direct party activists even from jail.
However, Information and Broadcasting Minister Hasan Mahmud yesterday contradicted the law and agriculture ministers and said Khaleda could not engage in politics due to the conditions for her release.
"Considering her age and health issues, she was released and allowed to stay home on conditions. As per the conditions, she cannot take part in politics," he said while talking to reporters at his secretariat office.
"Anyone sentenced to two or more years cannot take part in elections as per the law of Bangladesh. Khaleda Zia has been sentenced to more than two years. So, there is no question of her participating in elections," he said.
The confusion was further fuelled by Awami League General Secretary and Road Transport and Bridges Minister Obaidul Quader who made contradictory comments within two days.
On February 20, he said the BNP chief must follow the conditions of her release if she wants to get involved in politics.
Then yesterday, Qauder said that as a convicted person, there is no scope for Khaleda to get involved in politics.
"Has Khaleda Zia been relieved from her sentence? She is convicted. Has she been released [from jail]?" he said.
"Had she not been sick, she would have been in jail. So where is the opportunity [for her] to get involved in politics?" he said while addressing a meeting of the AL and its associate bodies.
All four ministers, however, have said that she cannot run for office.