'Murder attempt' on Joy: Shafik Rehman remanded
Detectives pick him from his house in Eskaton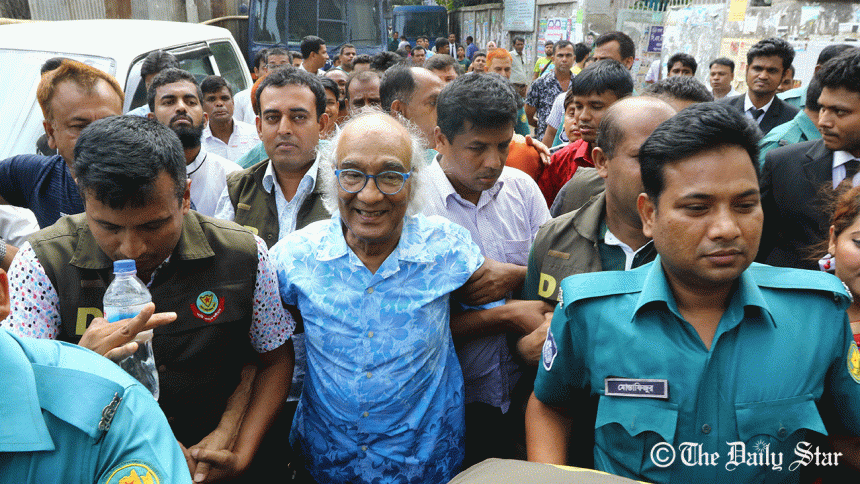 Seven hours into his arrest, Shafik Rehman, a pro-BNP intellectual, was granted a five-day remand in a case filed for alleged attempts to abduct and murder Sajeeb Wazed Joy.
Metropolitan Magistrate in Dhaka Md Mazharul Islam passed the order after Detective Branch (DB) Assistant Commissioner Hasan Arafat produced him before the court with a seven-day remand prayer.
Read more: Ex-FBI agent, Bangladeshi gets five years in jail 
Around 8:15am today, detectives picked up Rehman, also an eminent journalist, from his Eskaton residence and took him to the Detective Branch headquarters on Minto Road, Maruf Hossain Sardar, deputy commissioner (media) of Dhaka Metropolitan Police, told The Daily Star.
Also read: Expat BNP leader sued over 'plot to kill' Bangladesh PM's son Joy 
Detectives are investigating a case filed with Paltan Police Station in August last year on charge of attempting to abduct and murder Prime Minister Sheikh Hasina's son Joy, Bangla daily Prothom Alo reports quoting Investigation Officer of the case Md Masrukur Rahman Khaled.
Read more: DB men posing as TV crew detain Rehman: Wife
Rehman was arrested since his involvement has been found with the incident, the police official said.
The law enforcers entered the house around 6:00am identifying themselves as Boishakhi television reporters but before leaving with Rehman they informed the family members that they were detectives, BNP Joint Secretary General Rizvi Ahmed claimed.
BNP condemned Rehman's detention and demanded his immediate release.