Khaleda challenges lower courts' bail rejection order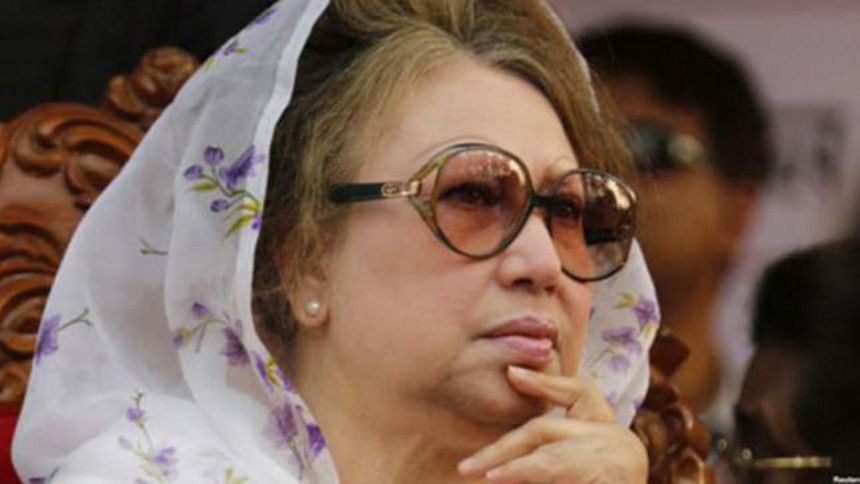 BNP Chairperon Khaleda Zia's lawyer today submitted two petitions with the sessions court challenging the legality of lower courts' orders that rejected her bail prayers in two cases filed over "undermining" the national flag and celebrating her "fake" birthday on August 15.
Advocate Masud Ahmed Talukder, one of her lawyers, filed the criminal appeals with the Dhaka Metropolitan Sessions Judges Court in Dhaka against the rejection orders of the two metropolitan magistrates.
After the hearing, Judge KM Imrul Kayes fixed July 31 for hearing the bail petitions.
On July 5, Metropolitan magistrates Ahsan Habib and Khurshid Alam rejected the two bail petitions filed by Khaledain the two cases.
One of the cases was filed by AB Siddique, president of Bangladesh Jananetri Parishad, a pro-Awami League organisation, with a Dhaka court on November 3, 2016, accusing Khaleda and her late husband, former president Ziaur Rahman, of "undermining" the country's map and national flag.
The court dropped Ziaur Rahman's name from the charges as he died earlier.
The second case was filed by Gazi Zahirul Islam, former joint general secretary of Dhaka Union of Journalists, with another Dhaka court on August 30, 2016, accusing Khaleda of celebrating her "fake birthday" on August 15 every year.