BNP blasts Sultan Mansur for taking oath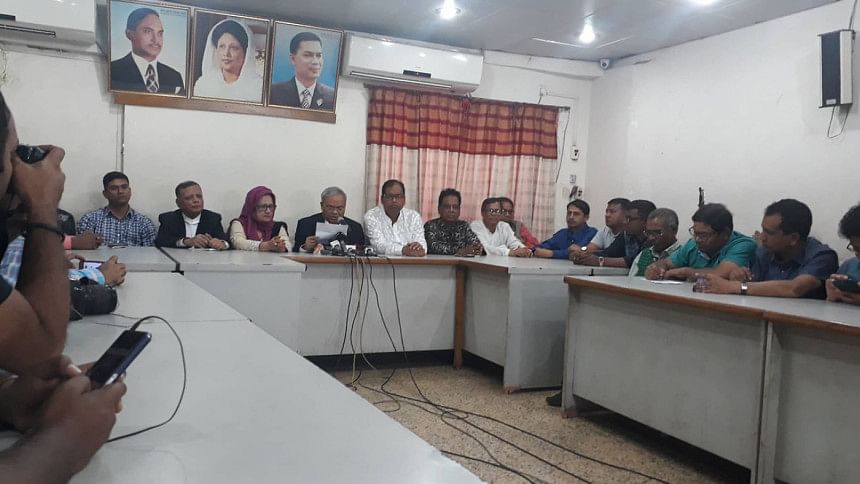 BNP today blasted Gonoforum PM-elect in the December 30 national election Sultan Mohammad Mansur for taking oath violating the decision of the Jatiya Oikyafront.
"He (Monsur) violated commitment through taking the oath. It is political fraudulence," BNP Senior Joint Secretary General Ruhul Kabir Rizvi told reporters at a press conference at the party's Nayapaltan central office in Dhaka this noon.
"The people who breach commitment will be branded as a mass enemy," said Rizvi, also the spokesperson of BNP.
Mansur, the lawmaker-elect from Gonoforum banner, took oath as a member of the parliament this morning. Speaker Dr Shirin Sharmin Chaudhury administered him oath at Jatiya Sangsad.
On March 3, Mansur and Mokabbir Khan, who was elected from Sylhet-2 under Gonofourm ticket, sent two separate letters to the Speaker requesting her to arrange their oath-taking ceremony on March 7.
However, Mokabbir did not take oath today.
BNP along with Gonoforum and some other parties joined the December-30 election under the banner of Jatiya Oikyafront. BNP bagged six seats while Gonoforum two in the election.
The MPs-elect from BNP is still rigid on their stance of not taking the oath as lawmakers of the 11th parliament.
Soon after the election, the alliance turned down results of the election bringing allegations of 'massive vote rigging, ballot stuffing a widespread of violence.
Later, the alliance also equivocally demanded a fresh election under a nonpartisan caretaker government.