Defaming Journo: Mainul gets bail in two more cases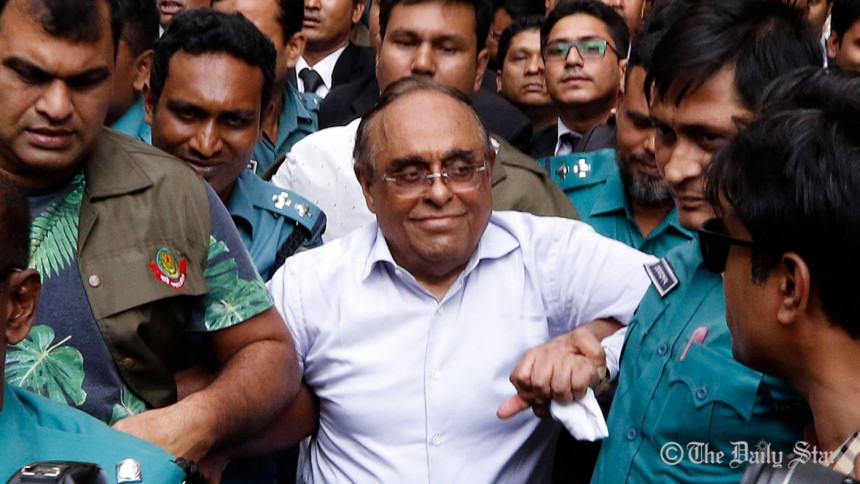 The High Court yesterday granted bail to barrister Mainul Hosein for six months in two cases filed against him for making "defamatory" remarks about journalist Masuda Bhatti.
The court also stayed the trial proceedings of the cases, filed in Rangpur and Jamalpur, for six months and issued two rules upon the government to explain why the proceedings should not be scrapped.
The HC bench of Justice Md Rezaul Haque and Justice Zafar Ahmed passed the orders after hearing two petitions filed by Mainul challenging the case proceedings and seeking bail.
Mainul, however, cannot walk out of jail following the HC orders as he was arrested in other cases, his lawyer Khandker Mahbub Hossain told The Daily Star.
As many as 22 cases were filed against Mainul across the country over the incident. He earlier secured bail in three other cases, the lawyer added.
He said the HC bench passed the orders on the grounds that only the person who is defamed by any comment can file a defamation suit.
Those who are not defamed by a comment cannot file a defamation case as per section 198 of the Code of Criminal Procedure (CrPC), Khandker Mahbub said, adding that the complainants of the two cases were not defamed by his client's comment.
Milimaya, a human rights activist in Rangpur, and Farzana Yasmin Lita, convener of Jamalpur Jubo Mohila League, had filed the two cases with the courts concerned as Mainul, also a former caretaker government adviser, called journalist Masuda Bhatti "a person of loose moral" during a live talk show at a private television channel on October 16.
Talking to this correspondent yesterday, Deputy Attorney General Khurshidul Alam said he opposed the two petitions. He argued that the accused should not be granted bail as the trial proceedings of the cases was at a very early stage.
He said the government would file appeals with the Appellate Division of the Supreme Court seeking stay on the HC orders.