SC upholds HC order on Mainul Hosein in 10 cases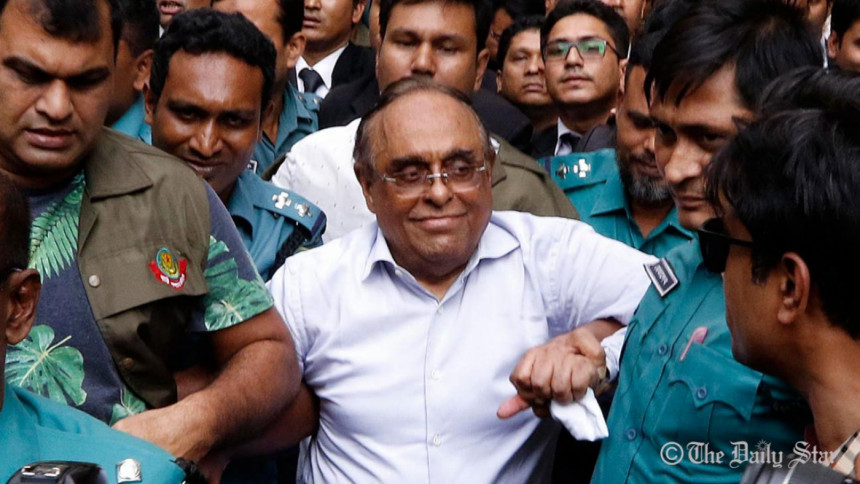 The Supreme Court yesterday upheld the High Court orders that granted bail to barrister Mainul Hosein in 10 defamation cases and stayed the trial proceedings against him in 14 cases.
Chamber Judge of the Appellate Division Md Nuruzzaman passed "no order" on the government's petitions seeking stay on the HC orders.
Advocate M Masud Rana, a lawyer for Mainul, told The Daily Star that the "no order" meant the HC's order would remain in force.
Now there is no legal bar for Mainul to get released from the jail as there is no arrest warrant against him in the few other cases in which Mainul was made accused, the lawyer added.
Assistant Attorney General SM Quamrul Hasan said Mainul Hosein would not be released from jail if he did not secure bail in all the cases filed against him.
Earlier on January 13, the HC granted ad-interim bail to Mainul in 11 cases and stayed the trial proceedings against him in 15 cases for six months.
The government yesterday moved petitions before the SC chamber judge's court challenging the HC orders that granted him bail in 10 cases and stayed the trial proceedings of 14 cases.
Mainul was arrested on October 22 last year in connection with a defamation case for defaming journalist Masuda Bhatti on a television talk-show on October 16. He was sued in as many as 23 cases.
Additional Attorney General Momtaz Uddin Fakir appeared for the government while Advocate Khandker Mahbub Hossain argued for Mainul.