Evaluate health of Barrister Mainul
HC directs BSMMU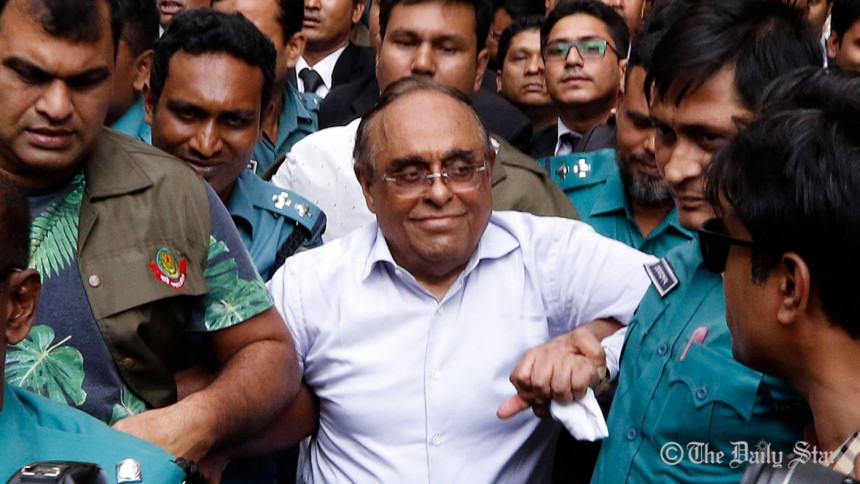 The High Court yesterday directed Bangabandhu Sheikh Mujib Medical University (BSMMU) to form a medical board to evaluate the reports on the health of Barrister Mainul Hosein, and submit a report before it on November 28.
The court also asked the government to provide adequate security to Mainul Hosein while being produced before the courts concerned, in connection with cases against him.
The court also set November 20 to pass an order over the treatment for Mainul, his lawyer Advocate Khandker Mahbub Hossain told The Daily Star.
The HC bench of Justice Syed Refaat Ahmed and Justice Md Iqbal Kabir passed the orders, after hearing two writ petitions filed by Mainul's wife Saju Hossein on November 2.
In one petition, Saju challenged government's "failure and inaction" to provide adequate security to Mainul, to prevent a recent attack on him at Rangpur court.
In another petition, she sought an HC order on the authorities to admit Mainul, a former caretaker government adviser, to a specialised hospital in Dhaka, saying he is suffering from diabetes, heart and kidney ailments.
Khandker Mahbub Hossain said Rangpur Medical College Hospital (RMCH) had earlier submitted a medical report to the HC, saying that Barrister Mainul's health condition is stable.
"We have also submitted some medical documents to the High Court saying that Barrister Mainul Hosein has been suffering from different health complications including heart problems. So, he needs to be admitted to a hospital," he said.
Mainul was arrested on October 22 in a case filed for defaming journalist Masuda Bhatti on a television talk-show.