Mainul sued under Digital Security Act
AL leader files case over defaming Masuda Bhatti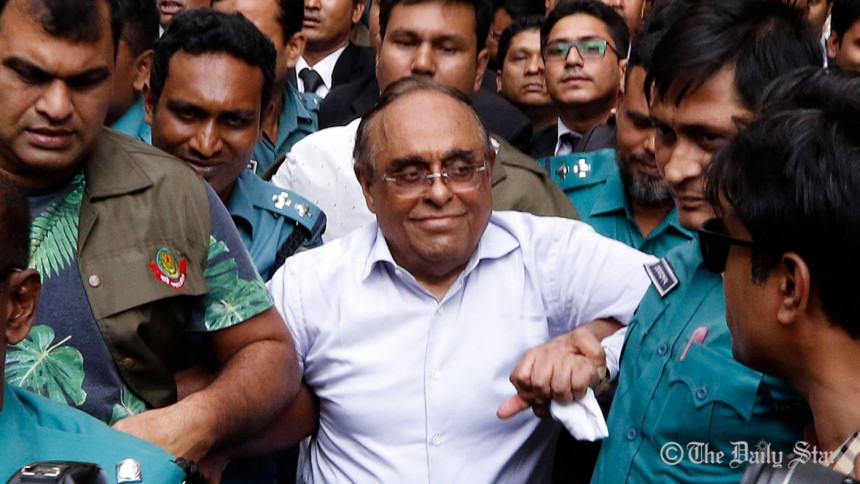 An Awami League leader yesterday sued barrister Mainul Hosein under the Digital Security Act for "dishonouring journalist Masuda Bhatti and the female community".
Advocate Sumona Akhter Lily, a member of the AL's youth and sports related sub-committee, filed the case with the Cyber Crime Tribunal in Dhaka.
Taking cognisance of the case, Judge Ash Sams Joglul Hossain of the tribunal directed the officer-in-charge of Gulshan Police Station to register it as a regular case.
In the case statement, Sumona said Mainul dishonoured all women, including her, by calling Masuda "a person of loose morals" during a live talk show. 
Meanwhile, another defamation case has been filed against Mainul in Mymensingh.
Mymensingh Judges' Court lawyer Rasheda Tahmina lodged the case yesterday with the court of Additional Chief Judicial Magistrate Rozina Khan in the district, reports our correspondent there.
Accepting the case, the court ordered a judicial inquiry into the incident and asked for submission of the probe report within October 31, said Md Yunus Ali, the court inspector. 
With these two, Mainul has now been facing at least nine cases since the talk show was aired on October 16. He faced a lot of flak for the remarks on the journalist.
Masuda filed a case with the Court of Additional Chief Metropolitan Magistrate Muhammad Asaduzzaman Noor in Dhaka. Besides, Jamalpur Jubo Mohila League Convener Farzana Yasmin Lita filed another case in Jamalpur with the Court of Senior Judicial Magistrate Soleiman Kabir.
Mainul got an ad interim bail on Sunday in the two defamation cases.
The other cases were filed in Rangpur, Cumilla, Bhola, Brahmanbaria and Cox's Bazar over the same issue. Courts in Brahmanbaria and Cox's Bazar have issued arrest warrants for Mainul.
Mainul was arrested on Monday night in connection with the defamation case filed in Rangpur. The next day, a Dhaka court sent him to jail after detectives produced him before it.