Defamation Suit: Mainul sent to prison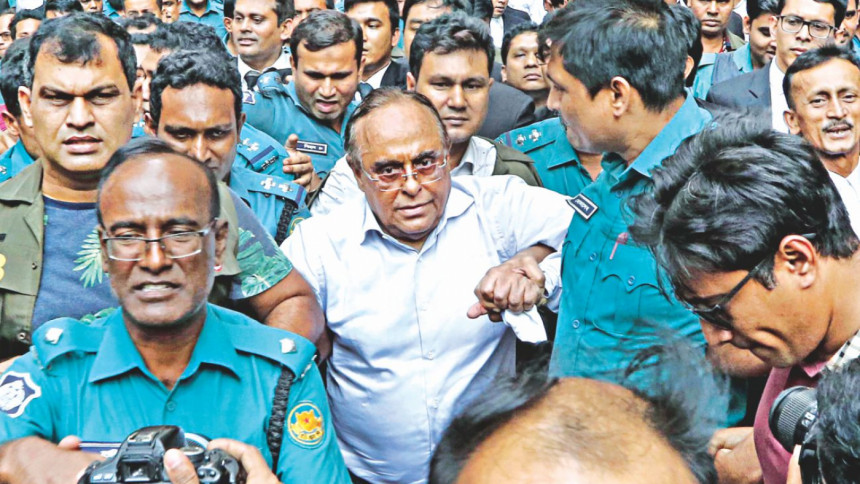 A Dhaka court yesterday sent barrister Mainul Hosein to jail after rejecting his bail petition in a defamation case filed for slandering female journalist Masuda Bhatti on a television programme.
Detectives produced him before the court of Additional Chief Metropolitan Magistrate Md Kaisarul Islam and appealed for sending him to jail. He was arrested in the capital's Uttara on Monday night.
Meanwhile, at least three more cases were filed against Mainul in Chattogram, Mymensingh and Cox's Bazar yesterday, raising the number of cases to nine, including the one filed by Masuda with a Dhaka court on Sunday.
Arrest warrants were issued for him in Chattogram and Cox's Bazar.
In another development, two ministers in separate programmes said Mainul was arrested for his alleged involvement in a crime, not for his political affiliation.
During the bail hearing, Mainul's lawyer Khandaker Mahbub Hossain argued that the case filed with a Rangpur court was not "maintainable" as its complainant Mili Maya Begum was not an aggrieved person and Masuda already filed a case in this regard with a Dhaka court.
Citing an apex court ruling on bail, he insisted that his client, a former adviser to a caretaker government, should be granted bail soon after he was produced before the court.
Kazi Nazibullah Heru, a prosecution lawyer, opposed the bail and said Mainul should not be granted bail as he had not only made an indecent comment about Masuda but also all women.
Protesting the court order, more than 100 pro-BNP lawyers staged a demonstration that caused chaos on the court premises, witnesses said.  
Mainul was involved in the process of forming the Jatiya Oikyafront, an alliance of the BNP, Gonoforum, JSD (Rab), and Nagorik Oikya. The combine was launched on October 13.
On October 16, Mainul, also the publisher and editorial board chief of The New Nation newspaper, called Masuda a person of "loose character" during a talk show on Ekattor TV. He was connected through videoconference.
He made the comment after Masuda asked him, "Many are commenting that you are in the alliance [Jatiya Oikyafront] as a representative of Jamaat-e-Islami … Is this true?"
Mainul's remarks on Masuda sparked protest.
He later apologised to Masuda over the phone and also issued a statement over this.
However, a legal notice was served on Masuda on Monday, demanding that she apologise to Mainul in public within 24 hours for her "intentional and defamatory question" at the talk show.
Earlier, the High Court granted bail to Mainul for five months in two defamation cases, including Masuda's one.
MINISTERS' REMARKS
Two ministers in separate programmes yesterday said Mainul was arrested as he was wanted in a case for his alleged involvement in a crime, not for his involvement with the Jatiya Oikyafront.
"This [arrest] is not a matter of alliance; rather a matter of personal crime. It is a crime. The way he made a slanderous comment about a female journalist …," Awami League General Secretary Obaidul Quader told a press briefing at his secretariat office.
"Case has been filed against him and it was urgent to arrest him. Thus police arrested him," said Quader, also road transport and bridges minister.
"Mainul Hosein used to say many things against the government even before the formation of the Oikyafront on TV programmes, but we never arrested him for that…," Law Minister Anisul Huq said at a seminar at Dhaka University.
He was arrested following a warrant for his indecent comment, he said.
BNP'S REACTIONS
Mentioning that Mainul is a person having respect for law, BNP Senior Joint Secretary General Ruhul Kabir Rizvi yesterday said his offence was to take a stance against misrule and speak in favour of democracy.
Speaking at a press conference at the party's Nayapaltan central office, he alleged that the prime minister at her press conference on Monday encouraged people to file more cases against him and talked about subsequent action against him.
"Hours after her such announcement, the arrest warrant was issued, and he [Mainul] was arrested. It's now clear that he was arrested at the directives of the government high-ups after issuing a warrant for his arrest by a court at night," Rizvi observed.