Polls 'irregularities': Oikyafront to hold mass hearing Feb 24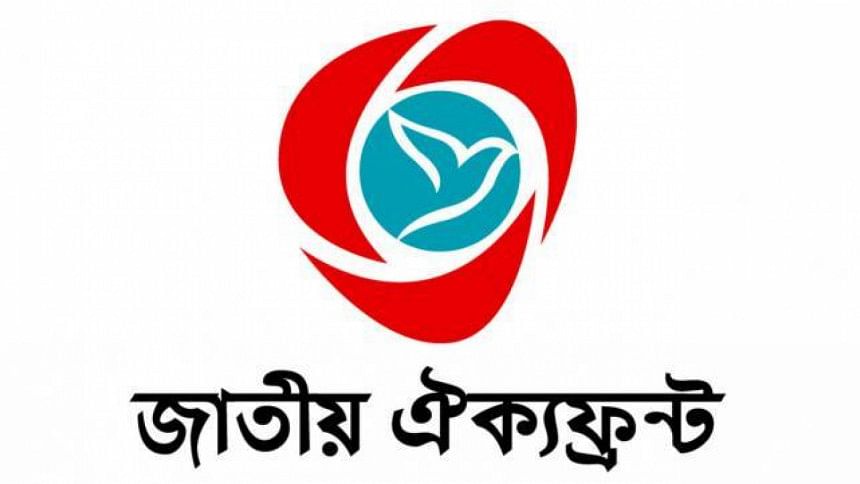 Jatiya Oikyafront today decided to hold a mass hearing programme on February 24, bringing allegations of vote rigging, balloting stuffing and violence in the December 30 national election.
The Oikyafront leaders took the decision in a steering committee meeting with Gonoforum President Dr Kamal Hossain in the chair at their Paltan office, according to a press release.
The steering and coordination committee members of the Oikyafront will hold a preparatory meeting on February 17 to make the mass hearing programme a success, it said.
Besides, Prime Minister Sheikh Hasina today describing the BNP-led Oikyafront's decision to boycott parliament as "politically wrong" reiterating her call to them to join the Jatiya Sangsad.
BNP-led Jatiya Oikyafront took part in the December 30 national election and secured a total of eight seats including six of its key partner BNP.
Soon after the election, both the BNP and the Oikyafront rejected the polls result bringing numerous allegations including vote rigging, ballot stuffing and widespread violence during the election.
The eight leaders elect in the election have yet taken oath as the lawmakers of the 11th parliament.
Under article 67 (1) (a) of the constitution, lawmakers' seats fall vacant if they fail to take oath within 90 days from the date of the first sitting of the House.