'Refrain from curbing freedom of press'
Oikyafront terms case against Prothom Alo editor motivated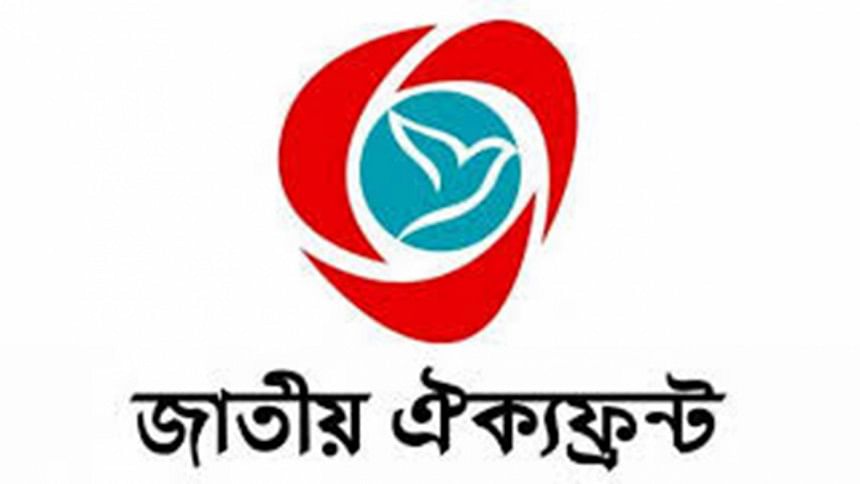 Referring to the case filed against Prothom Alo Editor Matiur Rahman and nine others, Jatiya Oikyafront in a statement today called upon the authorities concerned to refrain from efforts to curb freedom of expression and press.
Oikyafront, an alliance of six political parties including the BNP, came up with the remark a day after a Dhaka court issued an arrest warrant against 10 people accused in a case filed over the death of Naimul Abrar Rahat, a student of Dhaka Residential Model College.
Terming the case "motivated", Oikyafront urged the authorities concerned not to "curb freedom of expression" through the filing of such cases.
"There is no way to separate this case from the attacks -- one after another -- on freedom of expression in the country," the statement read.
Oikyafront said the arrest warrant was issued even though the legal proceedings could have continued with the issuance of a summon.
Signatories of the statement are Gonoforum President Dr Kamal Hossain, JSD President ASM Abdur Rob, BNP Standing Committee Member Dr Abdul Moin Khan, Nagorik Oikya Convener Mahmudur Rahman Manna, Gonoshasthaya Kendra founder Dr Zafrullah Chowdhury, and Bikalpa Dhara Bangladesh Chairman Prof Nurul Amin Bepary.
ARREST WARRANT ISSUED FOR PUBLISHING TRUTH: FAKHRUL
Mirza Fakhrul Islam Alamgir, secretary-general of BNP, today said that there is no freedom of expression in the country as the government is "oppressive".
"The government is repressing those who are engaged in writing and speaking the truth…" Fakhrul said during a programme at the Jatiya Press Club in the capital.
He said this while referring to the case filed against the editor of Prothom Alo.
"What is the offence of Matiur Rahman? The offence is he wrote something. His newspaper publishes the truth and thus he has been implicated in an unnatural death case," he said.
AUTHORITIES MUST FOLLOW DUE PROCESS: AMNESTY INTERNATIONAL
Bangladesh authorities must ensure that the legal proceedings against 10 people, including the editor of Prothom Alo, follow due process, Amnesty International South Asia said in a Facebook post.
"Authorities must therefore show restraint on any action that can amount to an attack on freedom of expression in the country," the international rights body said.
Earlier yesterday, 47 noted citizens also issued a joint statement protesting and condemning the filing of the case.
JOURNO BODIES VOICE CONCERN
Bangladesh Federal Union of Journalists (BFUJ) and Dhaka Union of Journalists (DUJ) today in a joint statement also voiced concern over the arrest warrants.
In the statement, BFUJ President Ruhul Amin Gazi, its secretary-general M Abdullah, along with DUJ President Kader Gani Chowdhury and its General Secretary Shahidul Islam, called upon the government to shun the path of repressing, harassing and arresting editors and journalists.