Dr Kamal for dialogue on 'fresh polls'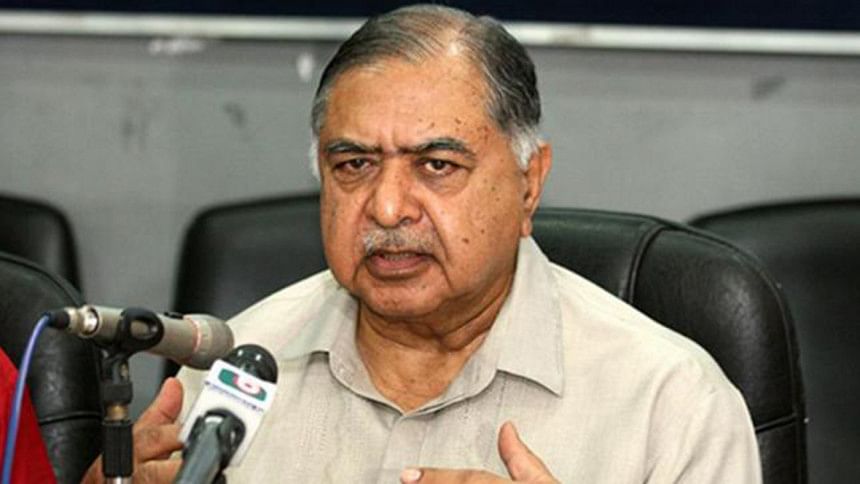 Claiming the December 30 election to be "farcical", Jatiya Oikyafront Convener Dr Kamal Hossain yesterday called for a national dialogue to find out ways for holding a fresh election as per the constitution.
"We had to witness a farce in the name of an election. It won't bring any legality and stability. This can, in no way, be accepted," said the noted jurist.
He came up with these remarks while addressing a discussion organised by the Gonoforum at the Dhaka Reporters Unity, marking the historic Homecoming Day of Father of the Nation Bangabandhu Sheikh Mujibur Rahman.
Dr Kamal, who presided over the discussion, urged all the political parties to sit for a dialogue in a bid to discuss the formation of an elected government by holding a fresh election as per the constitution.
Dr Kamal, who is also the president of the Gonoforum, said, "A sane person cannot play such a game with the country's 17 crore people. This can't be done unless a person is mentally imbalanced."
He also questioned if there was anyone who could call the election a free and fair one.
"It's regrettable what happened in the name of election even after 48 years [of the country's independence]. It was not supposed to happen."
The eminent jurist said the election was held on the night of December 29 instead of December 30.
 "Why did they do that? I would like ask them what is the necessity of doing such an unusual act?  Is it a game? Is it fair to play a game with the country's 17 crore people?"
Dr Kamal also said the December 30 election was a good example of political tricks. "I would like to request you, please refrain from resorting to political tricks and do everything through talks and as per the constitution. There can be no alternative to that."
Jatiya Samajtantrik Dal President ASM Abdur Rob, Gonoforum Executive President Subrata Chowdhury, Gonoforum General Secretary Mostafa Mohsin Montu, Gonoforum MP-elect Mukabbir Khan, Gonoforum leader Maj Gen (retd) Amsa Amin, also spoke among others in the discussion.