The price of complacency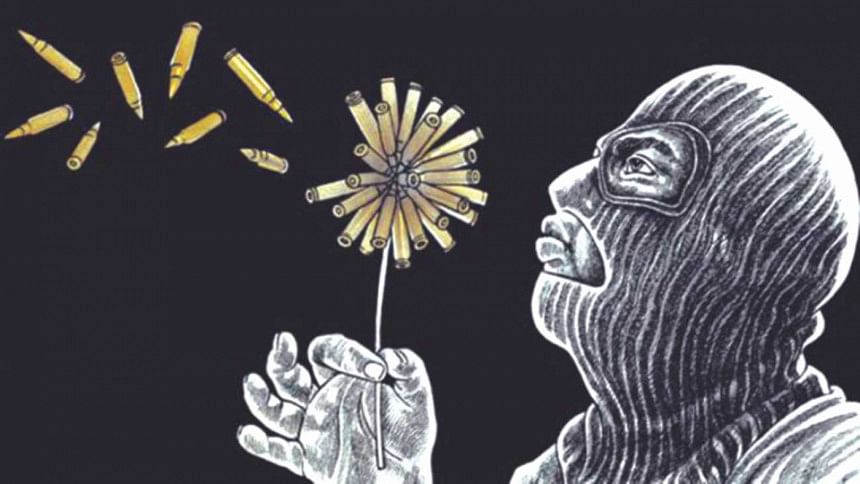 For about four years, from 2009, we have often heard government and police officials saying that religious extremism was under control, that its networks were destroyed and that the militants would not be able to regain capacity to carry out attacks. The complacency came for two reasons. One was the capture of the most top-ranking militants, who were sentenced to death in 2007; the other was that there were no attacks during those years.
The extremists did not take much time to prove this conclusion wrong. The misplaced complacency in fact went in favour of the extremists, who silently grew in strength and re-emerged with a more, frightening, brutal face.
After the August 17, 2005 countrywide bomb blasts, carried out by banned outfit Jamaatul Mujahideen Bangladesh (JMB), an anti-militancy drive began in which the group's top leaders were captured. They were executed in 2007. Yet, some leaders and many activists escaped the dragnet. The drive began to lose momentum, although a good initiative was taken by the Awami League government in 2009 to fight extremism. A national committee involving different ministries, police department, intelligence agencies, imams and schoolteachers was formed to fight radical Islamists through launching a socio-cultural and religious campaign. But by the end of 2010, the multi-pronged anti-militancy campaign fizzled out due to lack of political will. The fugitive militants were then regrouping in the Bangladesh-India borders, taking training on arms and explosives, and eventually gaining capacity to launch attacks.
"The authorities' total denial of IS presence will not help. Whatever the reason behind the refusal—political or tactical—it is undermining gravity of the problem. The denial coupled with the complacency may again create ground for re-emergence of extremism.
Another deadly development during this period—one that escaped the attention of the authorities—was the rise of a new brand of militants. The Chief of Ansarullah Bangla Team (ABT) Moulana Jasimuddin Rahmania was then playing a key role, giving radical sermons in mosques and madrasahs. Audio and video clips of the sermons went viral, attracting a large number of people, particularly youths, to take up the radical path of religion. Hizb ut Tahrir was the other radical group spreading dangerously as its leaders were brainwashing youths in universities to take up the destructive path with a goal to overthrow the democratic government and establish a khelafat state. Authorities banned both groups.
In this scenario, the movement of secular bloggers, online activists and pro-liberation people began at the capital's Shahbagh square on February 2013, demanding the death penalty for all war criminals and a ban on religious-based politics. The reorganised militants took this as an opportunity to prove their strength. They hacked to death blogger Rajib Haider near his house on February 16 for, what they claimed, "making derogatory comments about Islam". The murder was the beginning of a new phase of terrorism as secular teachers, religious minorities, foreigners and LGBT activists were targeted in different places of the country. Law-enforcing agencies had no clue about the attackers and their plan for attacks, credit of which claimed by al Qaeda in Indian Subcontinent (AQIS) and Islamic State (IS), which emerged in 2014 as a deadly terror organisation and attracted thousands in many countries, including Bangladesh. Youths, belonging to the poor and well-off families, whether they were from madrasahs or English-medium backgrounds, became IS followers. Some members of JMB, Hizb ut Tahrir and ABT also took it up. Many of them left houses, got brainwashed, got training on arms and ammunitions, and prepared for launching high-profile attacks. Law-enforcing agencies had little idea about the developments and the imminent danger. It was only after the Holey Artisan attack by the IS-inspired radicals that they understood the capacity of the evil force and finally woke to dismantle its networks. The government also acknowledged that militancy was a real problem and posed a serious threat to the country's security. A crackdown began in which a large number of militants were either killed or arrested in the last one year. And then there was a pause in militant attacks. Apparently, it appears that the extremists have lost their capacity and are unable to carry on. It also seems that our police and intelligence agencies are better equipped and more capable in preventing attacks.
Again we have a pre-2013 situation and the same dangerous tendency of showing self-satisfaction. Some police officers and ruling party leaders have again started saying that the strength of the militants had been destroyed and that they would not able to attack. The latest of such comments came from the Inspector General of Police at a post-Eid gathering of journalists at the Police Headquarters on Sunday.
But we can't afford to be complacent about the militants who are following a wrong and destructive ideology and are ready to die for it. Surely, the militant networks have been dismantled but not uprooted completely. In the face of crackdown, they may have adopted a different tactic to lie low for some time to regain capacity.
The government and police have played down the influence of IS in the country, which may turn out to be counterproductive in the near future. Since emergence, this terror organisation has been able to transport its brutal ideology to Bangladesh. A significant number of people, particularly young men are still nurturing the ideology while many others are becoming its new followers. The Holey Artisan café attack, carried out by five youths (brainwashed with IS ideology), is an example of how brutal IS could be. We have never seen any local militant groups carry out such attacks in the past.
The authorities' total denial of IS presence will not help. Whatever the reason behind the refusal—political or tactical—it is undermining gravity of the problem. The denial coupled with the complacency may again create ground for re-emergence of extremism.
In a new development, recently Prime Minister Sheikh Hasina told parliament that Bangladesh has become a role model in successfully tackling militancy. Only a few countries have been able to curb radical Islamists and the reason behind their success was not only using force to destroy them but launching a multi-pronged counter-radicalisation strategy—community involvement, social awareness about the scourge of extremism, campaign against misinterpretation of religion, de-radicalisation of radicals and integrating them in society. Singapore is doing this successfully, yet the country does not claim to be a role model. Bangladesh is far behind from what Singapore is doing. In absence of such a counter-radicalisation strategy, radicals continue to grow in the society and remain as a big threat. Killing extremists will not kill their ideology. So, instead of being complacent, the authorities should successfully launch a comprehensive counter-radicalisation campaign to check recurrence of what the country saw from February 2013 to July 2016.
---
The writer is Chief Reporter, The Daily Star
---
Follow

The Daily Star Opinion

on Facebook for the latest opinions, commentaries and analyses by experts and professionals.
To contribute your article or letter to The Daily Star Opinion, see our

guidelines for submission

.
---