Saiful last contacted family Sunday: Cops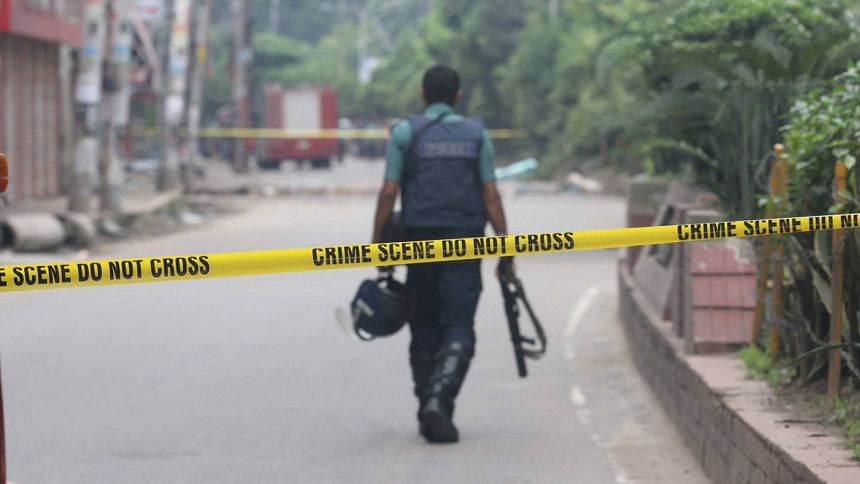 Saiful Islam, who was killed in anti-militancy drive at a hotel in Dhaka's Panthapath area today, last contacted with family on Sunday night, police said.
He left his house at Noakathi village in Dumuria upazila of Khulna on the night of August 7 telling his family that he was going to Dhaka for getting a job opportunity, BSS reports quoting police.
Md Shafiqullah, additional superintendent of police in Khulna, revealed the information after interrogating his father Abul Khayer, a treasurer of Shaosh Union unit Jamaat-e-Islami and also an Imam, hours into Saiful's death in explosion this morning.
The law enforcers also raided the residence of Khair and seized certificates of his son and some Islami books before quizzing him this noon.
Md Habil Hossain, officer-in-charge of Dumuria Police Station, told BSS that police quizzed Khayer to get information about his son.
Saiful, a third year student of political science in Khulna Govt BL College, was a member of Neo-JMB's suicide squad, the police official said adding that he was also an activist of Islami Chhatra Shibir, a student wing of Jamaat-e-Islami.
Quoting Saiful's father, the OC said Saiful had been studying at BL College while living at the Navy Colony of Khulna for the last three years.
He passed Dakhil examination from Ula Majidia Alia Madrasa of Dumuria upazila and Alim exam from Khulna Alia Madrasa. Among two physically challenged sisters and one brother, he was the eldest son of Khayer, the OC said.
"We will quiz Khair tonight about his son's link to JMB. We released him after primary interrogation and asked to be present at Dumuria Police Station tonight for further interrogation," the additional SP further said.