When will our public universities get better VCs?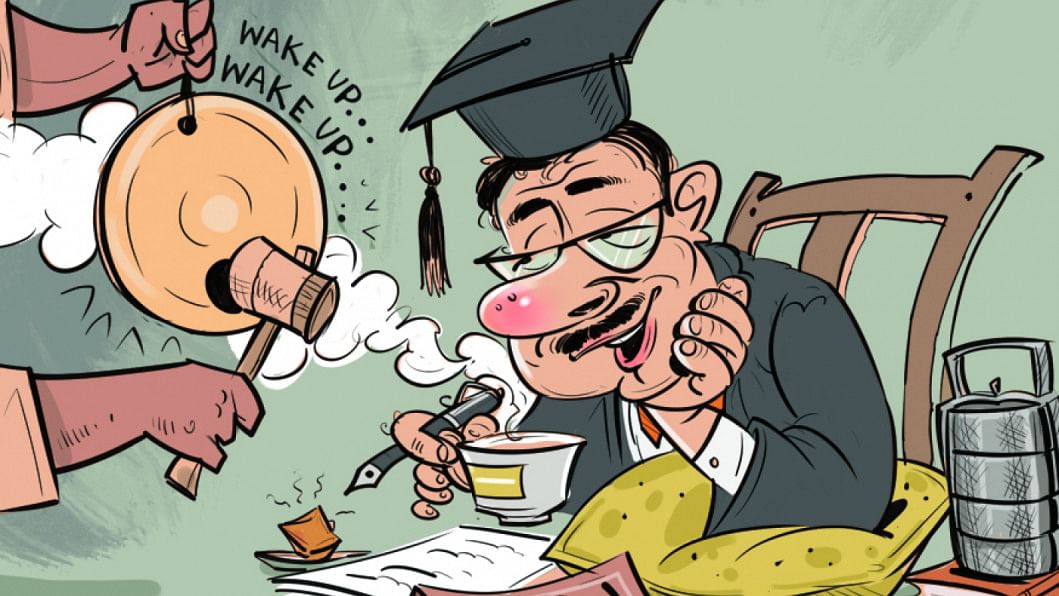 Recently, addressing a convocation ceremony at Dhaka University, our president brought up the issue of many controversies surrounding the vice-chancellors of public universities. Mentioning the array of allegations raised against the VCs, the president, who is also the chancellor of all state-funded universities in Bangladesh, lamented that these allegations were not only damaging these institutions' reputation, but also causing him embarrassment.
The president's remarks are based in reality. In fact, he barely painted the real picture of the state of our public universities. Almost none of the VCs are how they should be; almost none of them are doing their jobs.
But how did such individuals get appointed as university VCs? The chancellor - the president – actually has a major role in recruiting them. At present, there are only four self-governed universities in the country: Dhaka, Jahangirnagar, Chittagong, and Rajshahi. These institutions are run under the 1973 ordinance, which replaced Ayub Khan's regulations, according to which public universities were completely government-controlled. The 1973 ordinance is the direct result of years of struggle – including the Liberation War – and says public universities must be autonomous, where the VCs would be accountable to not only the government, but more importantly to the public. Teachers at these institutions, too, would be accountable to the public and would have freedom of thought.
But now, in these so-called autonomous institutions, the appointment of VCs and pro-VCs is so heavily influenced by the government of the day that one cannot tell whether there is a democratic environment at any of these institutions.
And in the other institutions – of which there are about 50 – officials are appointed directly by the government, without any regard to the 1973 ordinance. We know that any government appointee goes through a rigorous vetting process by various government agencies. Why, then, are people mired in allegations of corruption, irregularities, negligence, and un-teacher-like behaviour being appointed to these important positions?
Take Rangpur University, for example. The VC of Begum Rokeya University, Rangpur was absent on campus for more than 300 out of 365 days in a year. There were also allegations of corruption, irregularities, and unnecessary expenditures against him. Teachers at the university raised these allegations, and they were reported in the media as well. But the government did not take any action against him.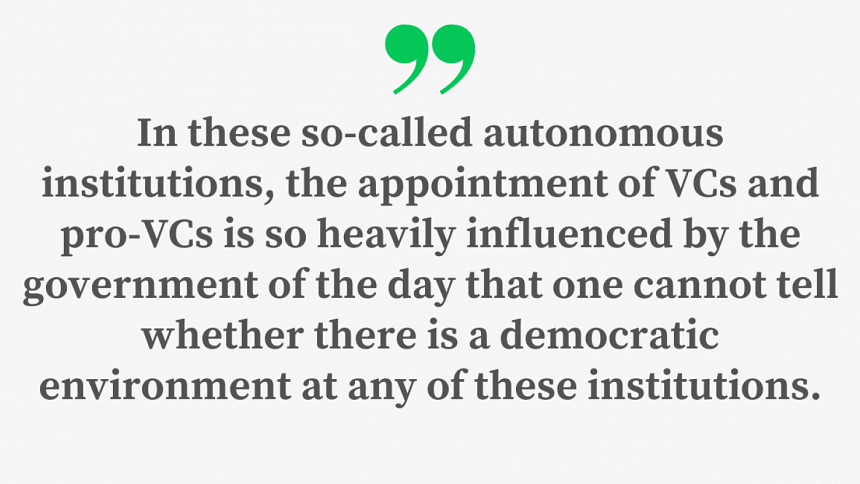 At Jahangirnagar University, the VC got a Tk1,500-crore project approved by the government without any transparency or accountability. And when allegations of corruption were brought against the VC, the government did not take any initiative to look into the matter, but instead those who protested against the irregularities were threatened. The government has liability in these cases. When the president is making his objections, he should consider the whole process that has led to this situation today.
Our public universities are in such a sorry state – which is not only embarrassing, but dangerous for the future of the country – because of how VCs are recruited. These days, it seems the criteria to become a university VC are being subservient to the ruling party and its student wing, praising the government at all times, and protecting those affiliated with the ruling party and are found to have committed irregularities on campuses. No wonder there is such unruliness at our public universities.
In addition, it seems that at all public universities, the ruling party's student wing has been given an open licence to suppress any opinion or practice of free thinking that may be critical of the government or prove harmful for them. They also try to control the general students through any means necessary, including torture. These students live in constant fear, not being able attend their classes or study for exams in peace. A section of these students, enticed by power, join the ruling party student wing.
In such circumstances, our public universities are now devoid of a healthy academic environment. So, we are not getting the education and research work that we expect.
The government has been setting up many universities in the name of promoting science and technology, but there are no concrete plans or will to use them to improve or expand our national capacities. A university is a place for free, creative and critical thinking, innovation and exploration of new ideas. In order to solve our national issues and crises, as well as improve our national capabilities to do so, our universities need to be a free space for thinking and research. All the universities have to be connected so ideas and knowledge are exchanged. But ensuring these intellectual practices does not seem to be a priority for the government. Its main interest seems to be making sure that this intellectual sphere does not go out of its control.
This a toxic situation that creates space for rampant corruption. If this situation persists in our universities, it will ultimately harm our country. To get out of this situation, first we must involve our universities in national policymaking processes to tackle the different kinds of issues we face today, instead of consulting foreign entities. Second, the residential halls of these universities must be freed of the ruling party student wing's reign of terror. Third, student union elections must be held at every university so that genuine students who can represent student bodies' interests are elected. Teachers should be given the opportunity for education and research and students should be given learning opportunities. Proper democratic practices must be established and transparency must be ensured at all levels. Then again, that can be achieved only when the overall state of democracy in the country is made stronger.
Anu Muhammad is a professor of economics at Jahangirnagar University.
Transcribed and translated by Anupam Debashis Roy.